Review: Balay Valencia, Masbate City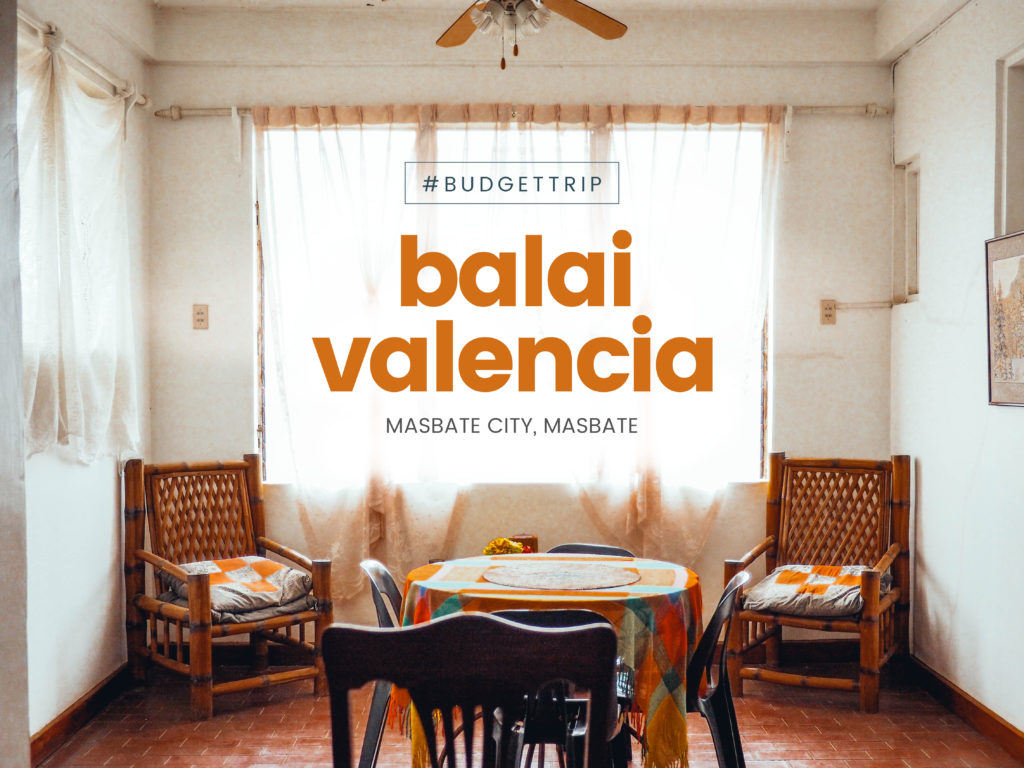 Are you brave enough to stay in a hostel that was formerly a hospital? This is Balay Valencia in Masbate City and today, I'll tell you my not-so-creepy experience.
THE UNUSUAL CHOICE
This is part of my #ExploreMasbate series. To give you an overview of my entire trip including the full guide, budget and itinerary, read first my Explore Masbate: A 3D2N Backpacking Challenge journal.
Straight from the airport, I headed to the Provincial Tourism Office to ask for recommendations for my trip. The plan is I'll be staying the city for the night then stay the next night at Mt. Mayong Payong. Initially, they recommended a hotel (I forgot the name) then they asked me if I want to check out Balay Valencia, an old Spanish-style house. Since I am an architecture student and I have this fascination for classic, old houses, I immediately said yes. But there's a catch: Balay Valencia is a former hospital before being converted into a hostel.
UNVEILING THE PAST
I am a huge fan of haunted houses. In fact, I love staying at creepy houses. We once stayed at Teacher's Camp in Baguio City and our room is located exactly beside the famed Laperal White Mansion which is considered as one of the haunted and creepiest place in the city. We stayed there for almost 4 days but even though it was very, we didn't feel anything. Now back to Balay Valencia, I instantly said yes and there's no turning back. In fact, I was pretty excited to see if I'll experience something creepy.
According to the locals, Balay Valencia was a hospital back in 1900s and was later converted into a hostel. I forgot to ask more about its history but upon further research, it appears that there are almost no data available regarding the history of the house nor a prominent Valencia family in the province. Is it just another creepy story passed from one generation to another? Who knows.
INSIDE THE BALAY
The 3-storey hostel follows the typical layout of the traditional Spanish house although there has been some alterations especially on the facade, mostly due to renovations. Upon entry, you'll immediately see the zaguan where carriages or karwahe are stored, equivalent to today's garage. It leads to the backyard garden where you'll find a lot of trees.
The lobby is located on the second floor. One thing that really caught my attention is the intricate design of the doorways. Also, the entire place exudes a classic, vintage vibe with figurines and paintings scattered all over the main hall. If that's not enough to bring out a creepy feeling, wait till you see the common rest room which is not inviting at all. I'd rather not take a pee than use it at night.
My room is located on the rightmost side of the hall. It's a corner room and has a view of the backyard. It has a high ceiling of about 3 meters and has screens on the upper part of the walls to allow wind to pass through and cool the rooms. The room is really huge and it's already good for 2 persons.
HOW TO SLEEP
This was a serious question during my stay. How can I sleep alone when I feel so uneasy? I can hear the rustling sound of the leaves brushing against the windows. It was very creepy. Not to mention that by 8pm, it was already quiet and city is already dead. I tried my best to have happy thoughts but I really felt weird. You can hear even the quietest sound.
The floor is made up of wood planks and with step, you'll hear these creepy creaks. It was definitely one of the longest nights I've had.
BREAKFAST TO GO
I woke up at around 5am and breakfast was already served. They served danggit or dried fish, boiled egg, fried rice and watermelon. All of these are included in the Php 500 overnight stay for a fan room. Pretty cheap indeed.
After eating breakfast, I packed my bags and checked out and continued my adventure in exploring the province.
THE PRICE
Room rate starts at Php 500 (~$10) for a standard fan room and Php 700 (~$14) for an air-conditioned room with private cr. Everything comes with toiletries and free breakfast.
Wi-Fi is available but you have to pay Php 50 (~$1) per day.
SHOULD I STAY?
If you're looking for a different kind of experience and wants a home-stay with a creepy background, the answer is a definite YES! Be mindful that this is a budget hostel so don't expect much. It is clean though you'll really feel how old the place is.
To go here, just ride a tricycle from the city center and tell the driver to drop you off at Balay Valencia. It's a very popular place.
For more info, you can contact them at: 09065102557 or 333-6530
Cheers~!
– Justin –