Explore Masbate: Buntod Reef Marine Sanctuary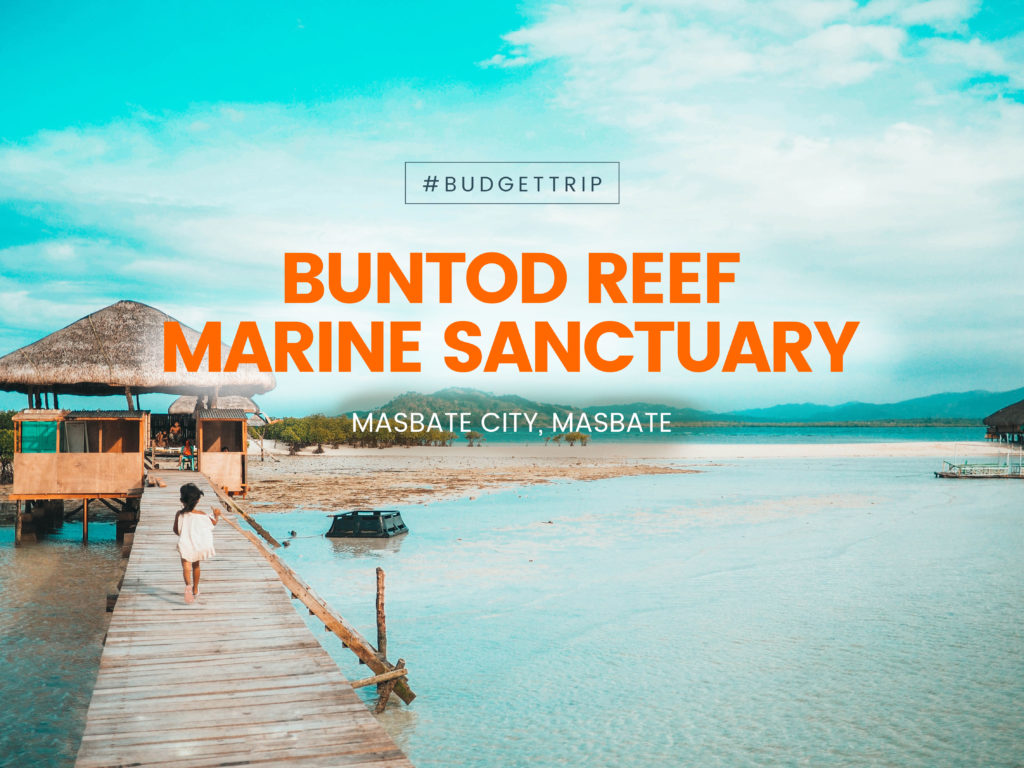 On my flight to Masbate City, this sandbar immediately caught my attention. Little did I know that this will be my destination on my first day in the province of Masbate. Welcome to Buntod Reef Marine Sanctuary, the place where the sandbar and clear waters meet the mangrove haven.
BUNTOD REEF MARINE SANCTUARY
Did you know?
Buntod Reef Marine Sanctuary is ranked as the Philippines second most resilient coral reef area in terms of broad-scale and local-scale factors (Bucol et.al, 2011). It occupies 20 hectares of core zone and 100 hectares of buffer zone.
– Masbate City Government
THE BOAT RIDE
To start this trip, I recommend for you to read first my complete Explore Masbate: A 3D2N Backpacking Challenge journal so you'll have an idea of my full itinerary.
After unpacking my stuff at Balai Valencia where I'll be staying for the night, I hailed a tricycle and went straight to Rendezvous Hotel where I'll be picked up. Fare costs Php 10. Thanks to the Provincial Tourism Officers, they connected me to Sir Jojo (contact number at the end of the post) who is the head of the association of boatmen in Buntod Reef Marine Sanctuary. I was already in contact with him and we decided to meet up at Rendezvous Hotel by 3pm.
Boat ride costs Php 500 roundtrip. It's cheaper if you travel in a group but since I'm traveling alone, I have to pay it full. But compared to other places I've visited, Php 500 is already cheap. Take note though that it's just a 15 to 30-minute ride and but it can go up to 45 minutes depending on the water condition.
OF SANDBARS AND MANGROVES
Because I really had no idea of what Buntod Reef Marine Sanctuary is before going there, I honestly didn't expect to be greeted with a stretch of fine white sandbar that leads to a mangrove sanctuary. It was my closest encounter with mangroves and the feeling was surreal.
Hanging out with the locals.
STRUGGLES OF A SOLO TRAVELER
Perhaps one of the struggles of being a solo traveler is having good instagram worthy photos of yourself without that selfie kind-of-vibe. And who's our best friend? TIMER!
When I saw the mangroves, I really want to have a good portrait shot. But since I was all alone and there was no other tourists in the area, I had no choice but to rely on timer. But the problem doesn't end there. Mangroves are small so I have to kneel down to make sure that everything is proportional. However, the struggle is just starting. The sand is full of tiny rocks and it was so painful! Talk about tiis-ganda.
Yes! I am kneeling in this shot!
Failed shot!
PORTRAITS & REALIZATIONS
While traveling to Buntod Reef Marine Sanctuary, my only plan is to take photos and videos. I love taking landscapes and I've always wanted to become a famous photographer. Although I also love taking portraits, I don't think I have a talent for it.
Anyways, so here's what happened: I was taking shots of the place when suddenly this small girl started staring at me. I smiled at her and she smiled back. I took a snapshot of her and she started posing. Seriously, this girl is a future model! She posed effortlessly.
Soon enough, two other kids (I assume it's her sister and brother) joined her. I took a lot of shots, mostly candid and they just kept on laughing. They were curious about my camera so I showed them how it works. I tried talking to them both in English and Tagalog but they didn't reply. Maybe it was the language barrier or maybe they were just too shy. But despite not having any communication at all, we understood each other. We had fun. And it was at that moment where I realized a lot of things.
You see, I've been doing travel blogs for quite some time now and there are moments where I'm consumed by all of it. I'll be honest that there are times where I just do it for the sake of fame, likes and money. But these kids… they brought me back to the very reason why I am doing this: to tell a story. This is one thing that traveling has taught me. The world is filled with stories. You just have to open yourself and listen to it. And I am here because I am a storyteller. I am meant to know the stories of the world and tell my stories to the world.
I think I've just found Moana! Would you believe that this was a candid shot?
RIDE BACK HOME
By sunset, we left Buntod Reef Marine Sanctuary. Unfortunately, the wave was too strong so we cannot go back to Rendezvous Hotel. Instead, we have to cut our trip and drop off at another station. There are tricycles in the area and fare is still the same.
HOW TO GET HERE
1. From the airport or city center, ride a trike going to Rendezvous Hotel (Php 20 roundtrip)
2. Ride a boat going to Buntod (Php 500 roundtrip/ good for 4-5 pax)
Cheers~!
– Justin –