Explore Masbate: A 3D2N Backpacking Challenge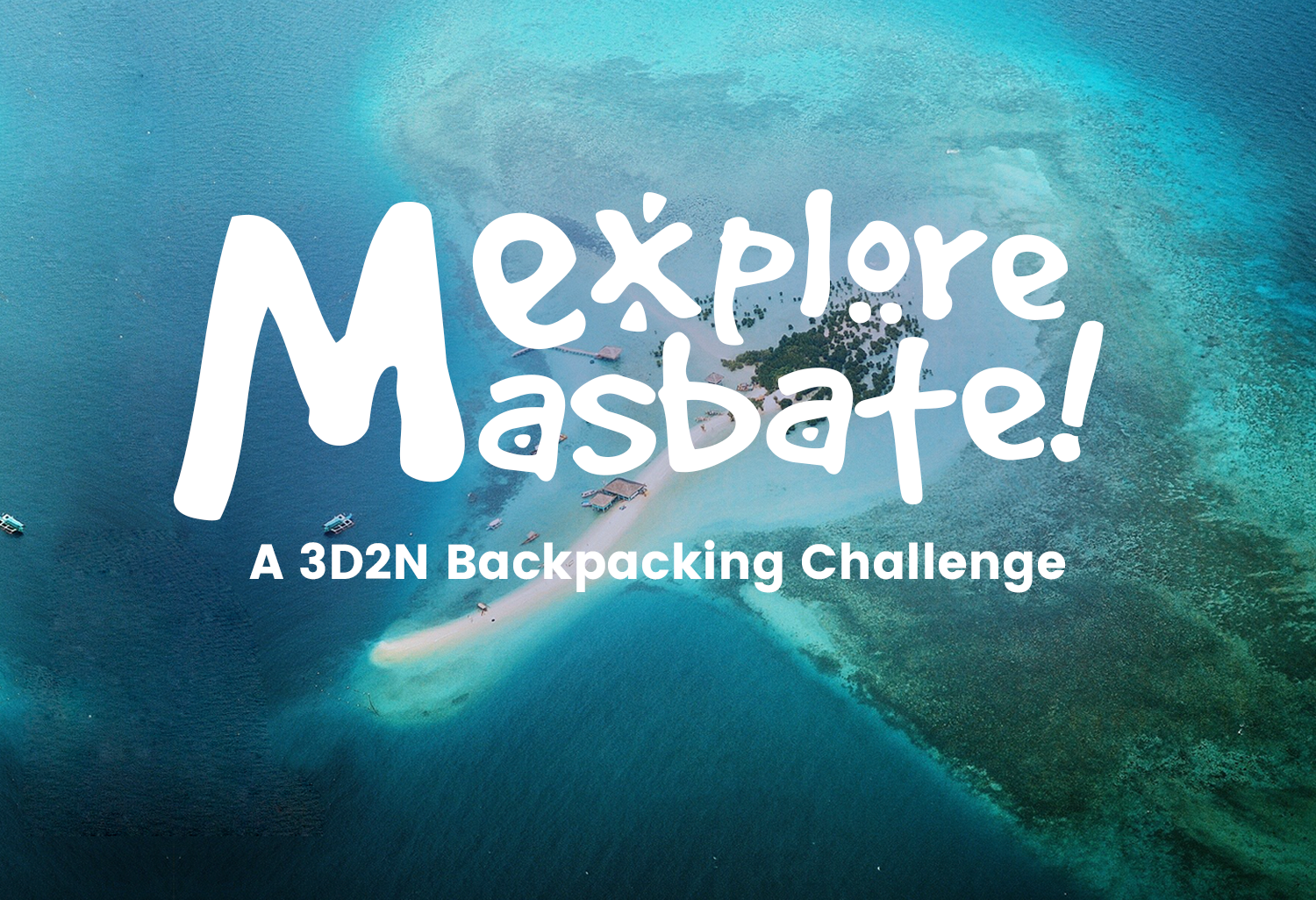 What would you do if you're given a round-trip ticket to a secret destination, Php 10,000 budget and a chance to go on a solo backpacking trip of a lifetime for 3 days and 2 nights?
It was just a typical day when I received a message informing me that I was chosen to participate at the #JuanForFun2017 Blogger's Backpacker Challenge. To those who are not familiar with this, the Juan For Fun is an annual competition by Cebu Pacific where groups of students go on a trip to a secret destination at a very limited budget. There rules are very simple: you just make the most out of your budget and have the trip of a lifetime! Sounds easy? I thought so too. But after trying it myself, I can say that it's really challenging. It will put your backpacking skills to the test.
To be honest, we were planning to join last year but sadly, two of my travel buddies are not qualified since they are already graduates. Been following this challenge since its first launch and after receiving the personal invite, you can just imagine how much I screamed.
Check out the full details and how to apply for the #JuanForFun2017 here
THE SECRET DESTINATION
Whenever we do backpacking, research is number one on our list. It saves you a lot of time and money if you already have a proper plan and itinerary. But how can you do that if you don't even know where you are going? That's the main catch of the challenge. It was close to 2 am when I arrived at the airport. I was waiting anxiously for the unveiling of my secret destination. I couldn't sleep properly. I looked at the board and saw that there are only 4 Cebu Pacific flight destinations from 5am to 9pm: Naga in Camarines Sur, Virac in Catanduanes, Busuanga in Palawan and San Jose in Occidental Mindoro. That means, I'm down to 4 choices only. I was secretly hoping it's either San Jose or Virac since I've already been to Naga and Busuanga though Virac is clearly my main choice (Catanduanes is a dream destination of mine). I was already doing my itinerary for the four destinations just in case.
And then, the great reveal.
It was around 5pm when I finally got my much awaited adventure passport. My secret destination is… MASBATE!
MASBATE-WHAT?
My first reaction when I found out that Masbate was my secret destination was… uhm, what? Truth be told, I only know Masbate by its name. I have no idea what it has to offer, or even its location on the map (though I'm a traveler, I'm not really that good in geography. Don't judge me okay haha!).
After checking out some travel guides online, I was able to come up with some destinations. The highlight of my trip would be a visit to Burias Island which includes Sombrero Island, Tinalisayan Island and sandbar and Animasola Island as well as a trip to Ticao Island. Looks like Masbate has some awesome destinations which makes me excited.
DISAPPOINTMENTS & SURPRISES
While waiting for my flight, I messaged almost everyone I know who could help me. I'm thankful that most of them responded and even connected me to the local tourism department since they're the people who could really help me on this trip.
After arriving at the airport, I was surprised that it's located right at the heart of the city. Just a few minutes away and you're already at the city center. I headed straight to the tourism office and asked for directions. I have to say that they're really awesome. They extended so much help and honestly, this trip wouldn't be possible without them. Anyways, I asked the best way to go to Burias and Ticao Island and I was disappointed to know that it'll take me roughly 7 hours to go there. To make things worse, hiring a boat would already cost me Php 8,000. My hopes came crashing down. I have to remove almost everything on my travel list. Luckily, they gave me some tips on where to go and what I can do during my stay. I was actually surprised to know that Masbate is one of the largest island in the country and there are many places to visit here aside from their famed beaches.
DAY 1: HELLO MASBATE
This is just a rundown of my entire trip in Masbate but don't worry, I'll do a more extensive guide on each place I've visited on my next posts.
After leaving the tourism office, I went straight to Balay Valencia where I'll be spending my first night.
Balay Valencia is an old hospital converted into a homestay inn. Sounds creepy? It really is! But if you're a fan of old traditional houses (like me!) you'll love this place. I unpacked my stuff and headed to Sutukil, a popular restaurant in the area.
After eating, I dropped by at Gaisano Mall to buy some sunblock then headed straight to Rendezvous Resort where I took a boat going to Buntod Reef Marine Sanctuary.
If you've been following me on social media, you'll be familiar with this aerial shot which surprisingly got a lot of feedback especially on some travel groups. This is Buntod Reef Marine Sanctuary.
Apparently, Masbate is really a hidden gem. Buntod is just roughly 20-30 minutes away from the airport. It's just one tricycle and boat ride away. Getting there is very easy and cheap too! Although in my case, since I'm traveling alone, I have to pay Php 500 for the boat ride. But trust me, you should definitely add this on your list. It has a nice white sandbar and at the end of it, you'll find a mangrove sanctuary. It's the closest I've been to a mangrove and the feeling is surreal.
By 6pm, I decided to go back to my hotel, took some shower and headed to Ham's Cup, the first and only coffee shop in the city, to have some dinner. It's just below Balay Valencia!
Life in Masbate, despite it being a city, is very simple. I just stayed at my room from 8pm until I fell asleep because the city is pretty dead by night. It has that typical province vibe.
DAY 2: A PARADISE CALLED MANDAON
I woke up at around 5:30 am and had my breakfast provided by Balay Valencia. By 6:30 am, I checked out since I'll be staying at a different place for the night. I was fetched by Sir Clark of the tourism office since he'll be my guide for the day. They offered their Pajero for Php 3,500 the entire day and I think that's really cheap already since that includes a driver and guide (which is Sir Clark plus Sir Bon who's also a tourism offer and works at the airport). If you want to visit Masbate, feel free to contact them (all contact details at the end of the post) and they'd be more than willing to help you.
Our first destination is the Pawa Mangrove Park. It is the city's biggest area of natural mangrove growth with more than 300 hectares of mangrove plantation. Sadly, the huts were destroyed by the previous typhoons and the bamboo boardwalk were also devastated. But I was told that the local government is already rehabilitating it and will be adding some concrete to strengthen it.
Next on our list is a visit to the new municipal hall of Milagros.
According to Sir Clark, a new Masbate Airport is being proposed right at the back of the municipal hall. To my surprise, I learned that a huge portion of Masbate is dedicated to ranches. After all, it's called the Rodeo Capital of the Philippines. Here, you'll find cows, horses and other ranch animals almost everywhere!
From Milagros, we passed through the zigzag road where you'll have a stunning view of the hills of Masbate. After taking some pictures, we headed straight to Bat-ongan Cave in Mandaon, Masbate. This is just a weird place. A huge cave right in the middle of a plantation? Plus it has an underground river! Nature is sometimes really weird but cool.
From the cave, we went next to Dr. Emilio B. Espinosa Sr. Memorial State College of Agriculture and Technology (DEBESMSCAT) or simply Masbate State College where we were greeted by its president Dr. Erwin Malto. He gave us a quick tour of the campus, the 2nd largest state college in the country. He showed us a preview of their upcoming Agri-tourism Park which should be done by around June.
After that, we then headed to the highlight of our trip: Tumalaytay Sandbar. On the west tip of Mandaon lies Tumalaytay, Masbate's hidden treasure. While it doesn't have that soft white sand of Boracay or Kalanggaman Island in Leyte, Tumalaytay's beauty will simply blow you away. From the Mandaon seaport, you can ride a habal-hababal going to Tumalaytay then another boat going to the sandbar. Another option is rent a regular pumpboat or speedboat from the seaport going straight to the sandbar (special thanks to the tourism officer and Mayor Kristine Hao for providing us the speedboat).
 The Tumalaytay Sandbar boasts a long sandbar that ends with a mangrove forest. Although the sand is not that clear because of the presence of the seaweeds, it's still beautiful. Plus, the view along the way going to the sandbar will leave you breathless (no kidding! it's just that beautiful).
It's kinda amazing at how many places you can visit in Mandaon alone. My stay is definitely not enough but I just have to make the most out of it. From Tumalaytay, we went back to the seaport, had lunch at a nearby carinderia and went straight to Sese Brahmans Ranch. There's an entrance fee of Php 50 each but the view is just… it's just the perfect backdrop! At the top of Potrero Hill, you'll get a glimpse of how it feels to be a haciendero. Rolling hills, ranch animals, perfect!
Close to the ranch is our next destination: the Fazenda da Esperança (Farm of Hope). It is a drug rehabilitation center which I didn't expect to be part of our itinerary. But according to Sir Clark and even some comments on my Facebook Page, a trip to this farm is worth it. It's a peaceful place and I didn't even had a clue that it was a rehabilitation center. Too bad fresh milk is not available but if you're gonna visit here, do try it! It's also a way to help the people of the farm.
Last on our list for Day 2 is a trip to Mt. Mayong Payong in Mobo where I stayed overnight. After all, once a climber, always a climber.
DAY 3: A RAINY FAREWELL
I spent the night at Mt. Mayong Payong with the hopes that I can take some stunning shots of the sunrise. But the weather wasn't on my side. There were no stars that night and it rained heavily. However, the unexpected happened. I woke up to what seemed like 20 degrees of temperature or perhaps lower. It was super cold.
Mt. Mayong Payong is a small hill but I didn't expect to witness almost zero visibility there. After a couple of minutes, I was stunned to see a horse around me grazing on the cold grass with the sea of clouds on the background. The trail going down was tough though because it was muddy. Good thing my habal-habal driver was a good one.
After descending, I met with Sir Clark again and he drove me back to the city. Of course, a trip to Masbate wouldn't be complete without visiting the Rodeo Arena. Too bad, I was too early for the Rodeo Festival which will happen starting this April (National Finals will be on April 18-22)
By 9am, I was already at the airport waiting for my 10am flight. It was still raining but I'm glad that my stay in Masbate was so much fun.
There's so much to see in Masbate and honestly 3D2N is not enough. It's not the destination I was hoping to get but now I know why I have been destined to be here. It has so much to offer and I'm excited to share my piece of story to everyone.
So grateful to everyone who has been part of this trip of a lifetime.
ITINERARY
BUDGET & EXPENSES
Total Expenses for 3D2N = Php 6,614
NOTES & TIPS
The main mode of transportation in Masbate is via tricycle. Minimum fare is Php 8. There are UV Express Vans going to other municipalities and it usually costs around Php 100-120. Signal is very tough in Masbate. Expect intermittent issues. Night ends by 8pm and there's not much to see within the city itself. ATM's are only available in Masbate City so make sure you always bring enough cash.
There are only a few restaurants in the city although there are fast food chains so dining options are limited. However there are some convenience stores in the area just in case you need something.
WHERE TO STAY
During my visit to Masbate, I stayed at Balay Valencia and Mt. Mayong Payong for one night each. It's the cheapest lodging I can get but for your reference, here are some recommended places on where to stay in Masbate.
Note: Masbate is a huge province. This only covers the southern part of Masbate which covers the main city and nearby municipalities.
BUDGET HOTELS
MIDRANGE HOTELS
WHERE TO EAT
There are only a few restaurants in the city so your choice is limited. Popular ones include Sutukil, Ham's Cup, Baywalk Garden Restaurant, Biggs Diner (this one is located at the Gaisano Mall), and Zero8 Restobar.
CONTACTS & GUIDES
Sir Jojo (Boat for Buntod Reef) – 09179277660
Sir Clark (Tourism officer) – 09391561961
With Sir Bon and Sir Clark. Excuse my super extra haggard face. That's what you get for not being able to take a proper bath because there's no available shower at the mountain! 😛
Upon reaching the tourism office, you can also look for Ms. Carol and Ms. Jaja, they can help you regarding your itinerary.
Do let them know I referred you so they'll have an idea.
And that's it for my Explore Masbate travel guide! As promised, I'll be posting a full detailed guide on each destination since I know this is too long already.
This is Justin Vawter and I am proud to have conquered the #JuanForFun2017 Backpacker Challenge by Cebu Pacific! Do you also have what it takes to be next challenger? Join here!
Check out the full details and how to apply for the #JuanForFun2017 here
Cheers~!
– Justin –