Review: The Linden Suites, Ortigas, Manila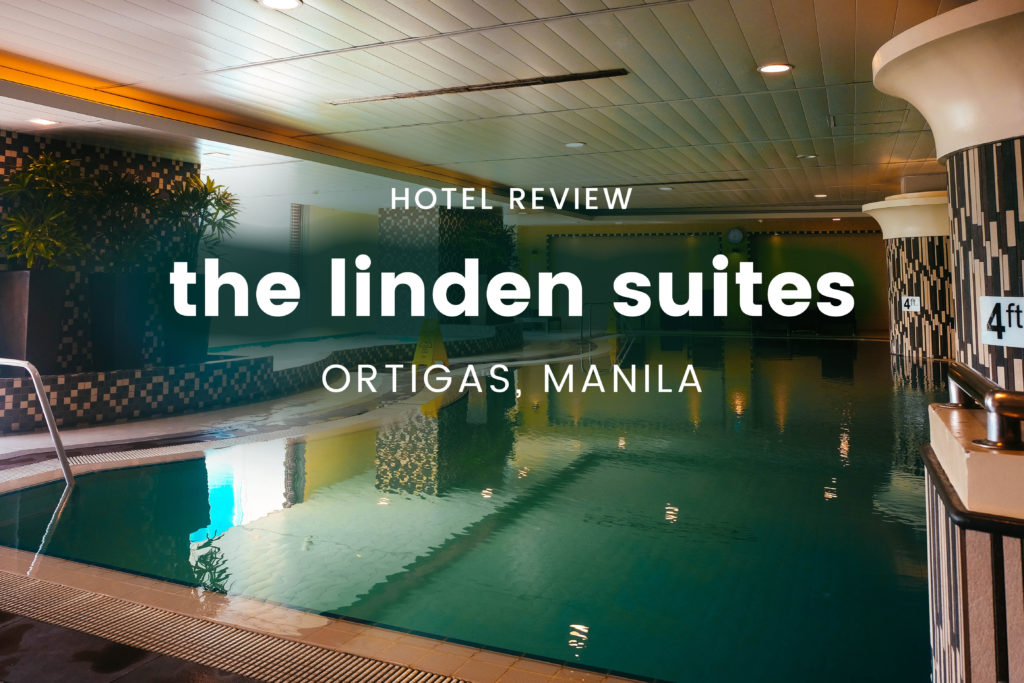 What's the best way of celebrating graduation than staying at one of Manila's premiere hotel: The Linden Suites.
It was the end of March this year when my family and I stayed overnight at The Linden Suites in Ortigas, Pasig City for a staycation which also happens to be a celebration of both the Earth Hour 2017 and my little sister's graduation from elementary.
THE LINDEN SUITES
The Linden Suites is located along San Miguel Avenue. It's a walking distance from SM Megamall and Shaw Boulevard MRT Station. It is divided into two towers, one for the hotel rooms and the other for their business center.
Upon arriving, what instantly caught my attention are the tiles that speak luxury. Although it took a while for the staff to accommodate us since there was an on-going wedding reception and the lobby was full of people, our transaction was very smooth.
THE DELUXE ROOM
We stayed at the deluxe room of The Linden Suites which features 2 beds (one queen size and one single), an entertainment system, a fancy bathroom which includes a bath tub, a work station and a dresser cabinet.
HEALTH CLUB
On the 9th floor, you'll find the Health Club which is composed of a gym, pool and jacuzzi, and sauna and massage room.
MESCLUN RESTAURANT + CAFE
Our stay comes with a free breakfast at their restaurant called Mesclun which is a french term for a salad mix of assorted small, young salad green leaves. It is located at the 2nd floor of Tower 1 and they have a wide variety of meals available. A must try is their deep-fried breaded bacon.
EARTH HOUR 2017
Since our visit was perfectly timed to the Earth Hour 2017, by around 8pm we went to the roofdeck where The Linden Suites prepared a marshmallow party. We created our own smores over some fire while watching The Day After Tomorrow from the outdoor projector which they have set up.
We also got the chance to see the skyline of Ortigas from the roofdeck.
THE PRICE
Price range for the deluxe room is around Php 3,000-7,000 (~$60-140) per night which is already good for 2 pax with up to 2 free kids aged 12 below.
Inclusion:
One (1) Complimentary Parking
Use of Health Club Facilities
WiFi Access
Check here for the current promos and rate.
WHAT I LOVE
WHAT I DON'T LOVE
FINAL VERDICT
The Linden Suites was a surprise to me. I honestly loved our stay although there were some hiccups especially in terms of management. It took them a while to accommodate us because of the current wedding situation and although it's understandable, I wish the staffs were coordinating with one another to ensure that the service is fast. Also, because there was no staff to accommodate us on our room, we initially got lost. There are two towers and we went to Tower 2 which was the business center. It was not only us who got lost that time so I think a proper signage is necessary to avoid confusion. Wi-fi is also limited and there are certain areas in our room that doesn't have good signal. Lastly, the view on our room was not that pleasant since it faces another tower (which is also understandable).
Nevertheless, the food, ambiance and the amenities especially the pool area hits the spot. Staying here was definitely an awesome decision.
---
Special thanks to Patty Villegas for lending me her photos. All my photos and videos were gone after a hard drive failure. 🙁
Cheers~!
– Justin –