Backpacking Thailand: 8 Days 7 Nights for just Php 7,500! (Itinerary + Budget Guide)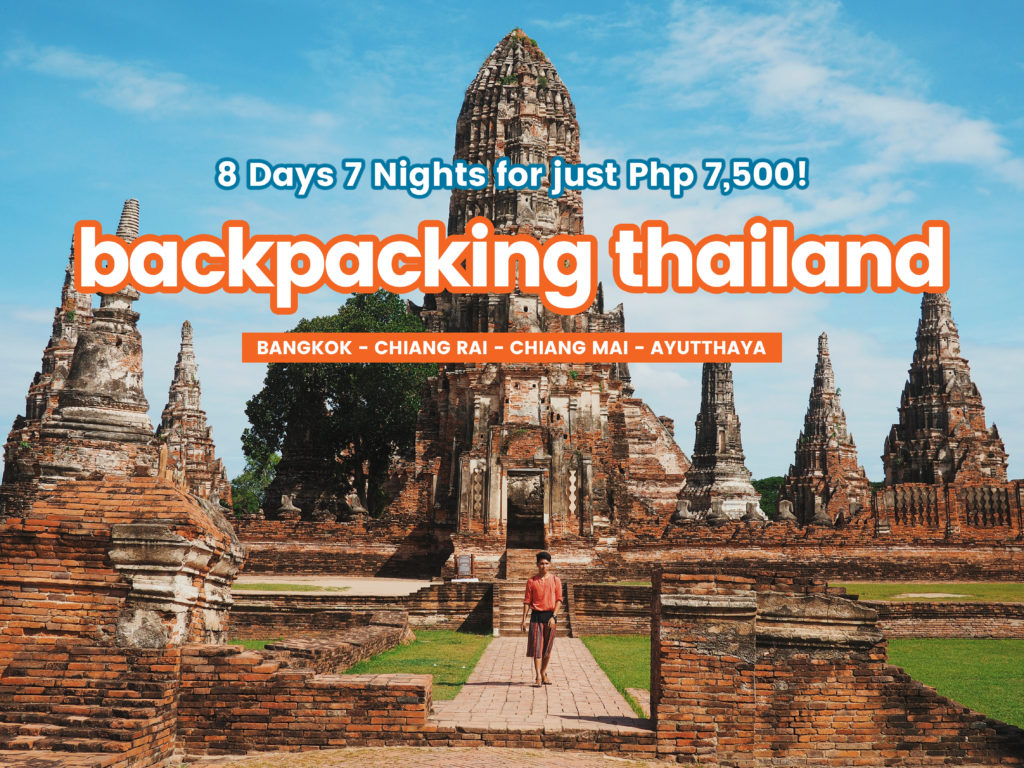 Thailand has always been my dream country. It's not that surprising especially I'm a huge fan of Thai movies, series and music. I just love watching their shows. Last June, I finally traveled outside the country for the very first time and I think there's no other perfect country to explore first other than Thailand. I booked an 8-day roundtrip flight for just Php 2,200+ all thanks to Cebu Pacific's seat sale last February. I was planning to go there for just 3 or 4 days but since the next cheapest flight is 7 days from the departure date, I had no choice. Bahala na!
Since this post is just a primer for my Backpacking Thailand series, I'll just keep everything to a minimum. I'll skip some details and provide a more detailed guide on each place I've visited soon so I hope you'll check that out. I honestly had no fixed itinerary during my trip. After all, isn't that what backpacking is all about? Come what may. Wherever my feet takes me, I'll just go. I want to live in the moment and explore a country without locking myself in a piece of time table. I'll post everything that I did and the places I went to in this guide but I won't be adding a time stamp since I went there on a very flexible time.
MY HOME IN THAILAND
Before I proceed to the itinerary, I just wanna do a little disclaimer. I was able to save A LOT of money in terms of accommodation and transportation because of Couchsurfing (read: Tips on How to Travel for FREE!). To those who are new to Couchsurfing, it's basically staying at a host or local family for free or depending on your agreement. I've always wanted to try Couchsurfing and my trip in Thailand was the perfect place to try it. I was lucky enough to have such a great hosts. I'll be honest that when I signed up for it, I only wanted to get free accommodation. I mean, who doesn't want that? But I realized after that it's more than just the perks. It's really nice to have people who treats you like family. I was lucky to be hosted by P' Bomb in Bangkok and P' Bigg in Chiang Rai. I was able to meet their family and through them, I was able to see Thailand from a local's perspective. They drove me around and showed me places where locals go and eat. I was literally living like a local. Plus, it's nice to have someone you can call a friend even after the trip. I'll be sharing my experience plus tips for first timers soon so watch out for that.
FLYING TO THAILAND
There are regular trips from Manila to Thailand via Cebu Pacific, Air Asia, Philippine Airlines and Jetstar. If you're in a tight budget, watch out for seat sales since they can go as low as Php 1,000+ for a round trip flight. You have to pay Php 1,620 at the airport for the travel tax. Flight is around 3 hours but take note that Philippines is ahead of time by 1 hour.
Suvarnabhumi Airport in Bangkok is a lot bigger compared to Ninoy Aquino International Airport in Manila. To go to the city, you can ride the subway that connects to Bangkok Transit System (BTS) or Skytrain and MRT or take the S1 bus that will drop you off at Khao San road for 60 Baht.
MODE OF TRANSPORTATION
Main mode of transportation in the city is bus and train. There are public buses and they go on designated routes. For the train, there's the BTS Skytrain and MRT Blue Line and Purple Line as well as the Sukhumvit Line and Silom Line. Traveling via train is the easiest way to travel and they're easy to understand too!
Song Thaew or those trucks similar to the local jeepney are also available but I noticed that they're more popular in the province areas of Thailand like Chiang Mai and Chiang Rai. There are also tuktuk or tricycles but they're often used by tourists.
EXCHANGE RATE
It's best to have your money exchanged before going to Thailand or you can just exchange at the airport. Make sure you exchange it at Super Rich since they have the best exchange rate. They have multiple branches in Thailand. They have the orange and green kiosks (although the orange kiosks are cheaper by a couple of cents). Exchange rate during my trip is 1 Php = 0.65 Baht.
DAY 1: BANGKOK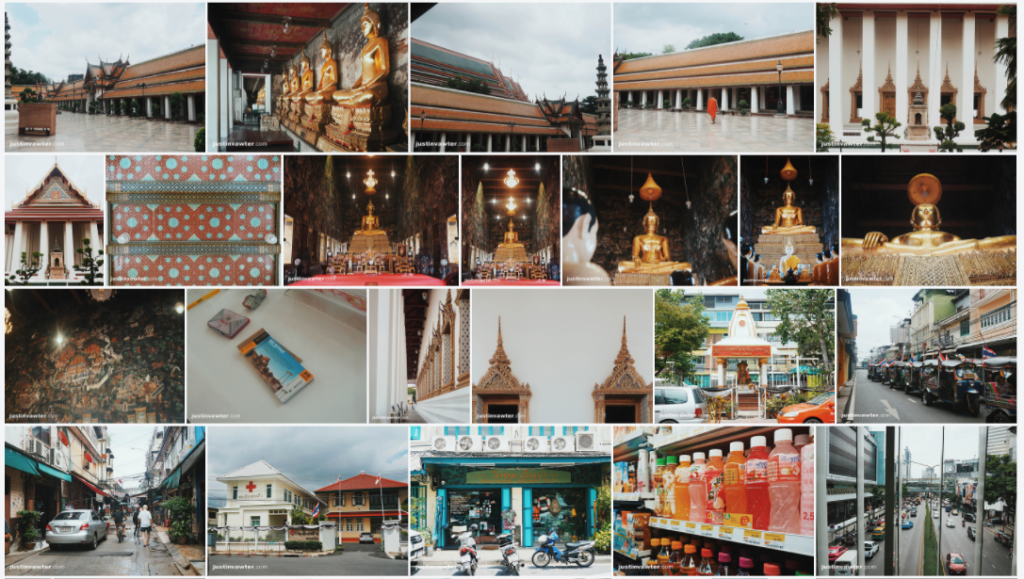 Where to go

Temples/Attractions
Thewasathan (Bot Pram)
Giant Swing
Wat Suthat
Shopping/City Center
Bangkok Art and Culture Centre
MBK Center
Siam Center
Siam Paragon
Siam Square
CentralWorld
Party
Khao San Road (Brick Bar)
Expenses

Airport bus to Khao San Road (where P'Bomb picked us up) – 60 Baht
Street food – 24 Baht
Chicken meal for lunch – 100 Baht
Wat Suthat entrance fee – 20 Baht
Milk tea (Siam Paragon Food Hall) – 70 Baht
Noodles for dinner – 50 Baht
Beer (Brick Bar) – 1840 Baht/4pax = 460 Baht each

Note: To stay connected, I bought a Thai sim card via Klook for just Php 347. It includes unlimited data for 7 days + 100 Baht call and text credits. I highly suggest you buy a local sim card via Klook since it's much cheaper compared to the price at the airport. Plus, they'll activate it for you. Internet in Thailand is super fast!! In fact, Wi-Fi at Siam Paragon is at 300 mbps. Huhu. How I wish we have that same speed here in the Philippines.
DAY 2: BANGKOK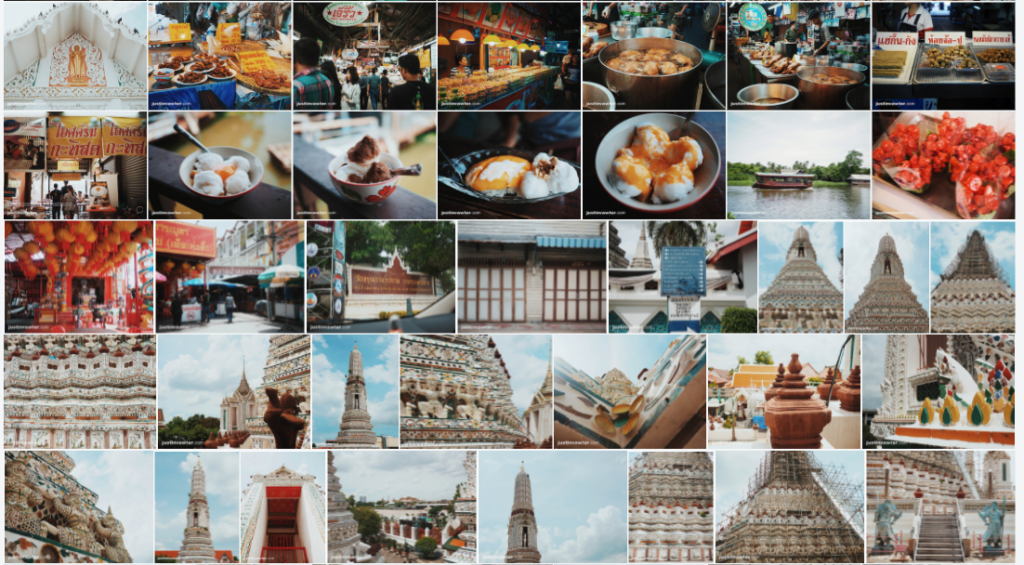 Where to go

Temples
Don Wai Floating Market (they also have street food + you can feed some catfish at the river)
Wat Arun
Food
Thipsamai Restaurant (best Pad Thai!)
Tha Maharaj (it's like a food park/mini mall)
Rim Nam Moo Krata (buffet)

Mo Chit terminal station (bus to Chiang Rai)
Expenses

Pad Thai (Thipsamai) – 90 Baht
Water – 10 Baht
Coconut Ice Cream with Fresh Egg (Don Wai) – 39 Baht
Wat Arun entrance fee – 50 Baht
Buffer Dinner (Rim Nam Moo Krata) – 220 Baht
Bus ticket to Chiang Rai – 544 Baht

Note: Bangkok is quite small. If you are on a tight budget, I suggest you skip Grand Palace since it'll cost you 500 Baht for the entrance fee alone. It's usually crowded too so you may not enjoy the place. I suggest you visit other temples instead. There are a lot of temples in the area, most have no entrance fee. Don't forget to try their street food too! Khao San Road is known as the backpacker's place. There's a lot of street food here so this would be your go-to place. It's also considered as the party district but expect the drinks to be quite expensive. If you wanna drink but stay on a budget, go buy at 7-11 instead. It's a lot cheaper. If you want to visit the mall, go to Siam Paragon. They have like 3-4 malls connected to one another. It's also at the city center so you'll find a lot of cool spots there.
For accommodations, you can get a hostel room for as low as Php 150 pesos. Check out the list here.
DAY 3: CHIANG RAI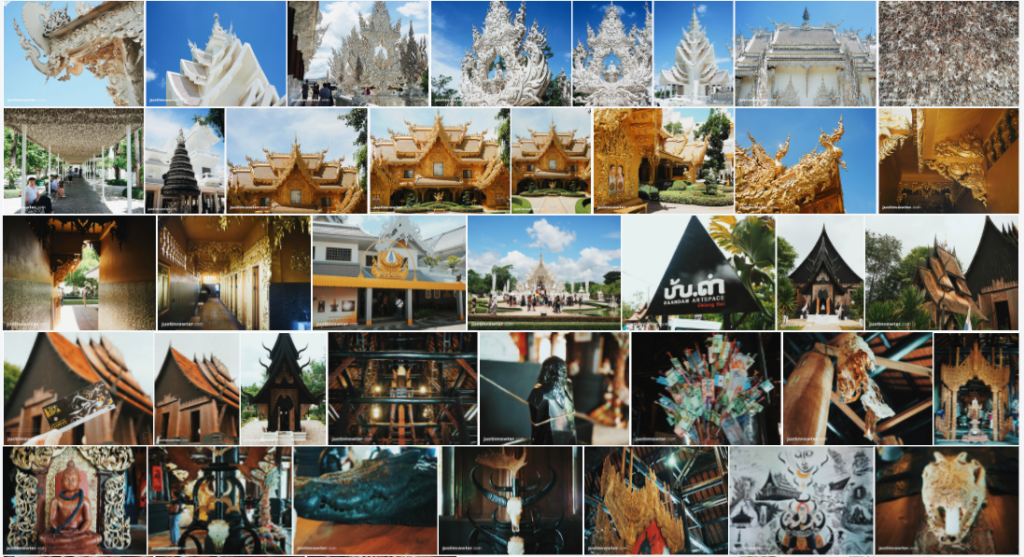 Where to go

White Temple
Baan Dam (Black House Museum)
Golden Clock Tower
Chiang Rai Night Bazaar (shopping!)
Expenses

Breakfast (local eatery) – 45 Baht
White Temple Entrance Fee- 50 Baht
Baan Dam Entrance Fee- 80 Baht
Shopping – 120 Baht
Soya milk – 10 Baht
Note: Travel time from Bangkok to Chiang Rai by bus is around 11-13 hours. Chiang Rai is much smaller and honestly, there's not much to see here. But you shouldn't miss the White Temple and Black House Museum. It's super worth the visit!
For the accommodation, I used couchsurfing and stayed with my host P'Bigg. He also showed me around together with another surfer Allan. But if you're planning on staying at a hostel, you can get one for as low as Php 200. Check out the list here.
DAY 4: CHIANG MAI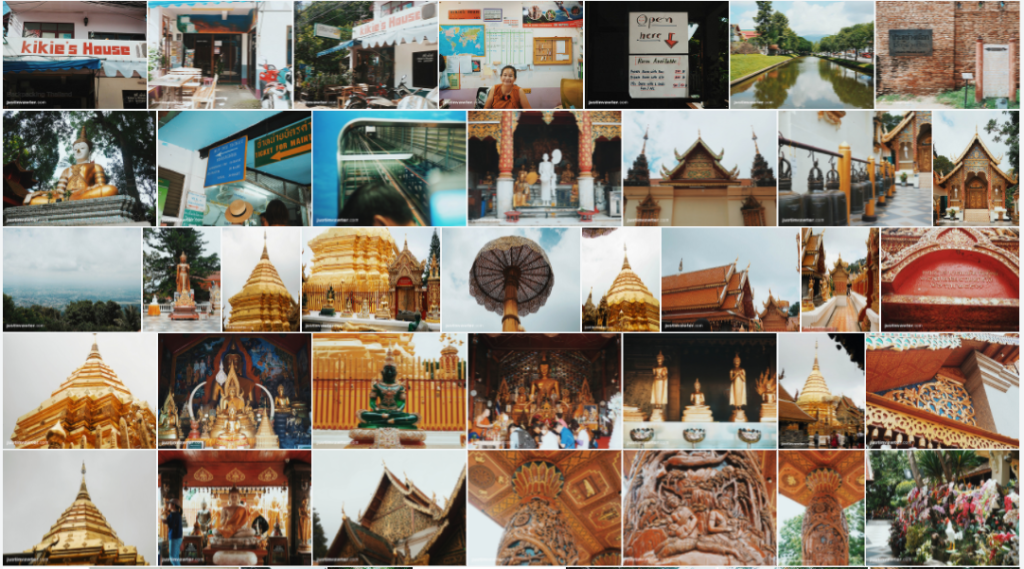 Where to go

Temples + Attractions
Wat Prasat
Phra Singh Temple
Wat Si Koet
Wat Phan Tao
Wat Chedi Luang
Wat Inthakhin Sadue Muang
Three King's Monument
Tha Phae Gate
Shopping
Ploen Ruedee Night Market
Chiang Mai Night Market
Where to Stay

Kikkie's House (book here)
Expenses

Bus from Chiang Rai to Chiang Mai – 129 Baht
Song Thaew to Tha Phae Gate- 30 Baht
Kikkie's House (hostel)– 100 Baht per night (total of 200 Baht/2 nights)
Lunch – 55 Baht
Bike rental at Kikkie's – 50 Baht
Snack – 34 Baht
Dinner – 100 Baht
Beer – 100 Baht

Note: Travel time from Chiang Rai to Chiang Mai by bus is around 3 hours. I arrived in Chiang Mai by lunch time and started looking for a hostel. The cheapest I found is Kikkie's House where I stayed for 2 nights (you can check out more hostels here). You can tour the main city square in a day but it can get tiring so I suggest renting a motorbike or bicycle. Also, I highly suggest to find a hostel within the city square so you'll have easy access to the temples.
The shopping areas are outside the square but they're worth checking out. If it's a weekend, the main roads at the city square are closed for the weekend night market. Prepare some budget for shopping because everything is so cheap!
DAY 5: MAE RIM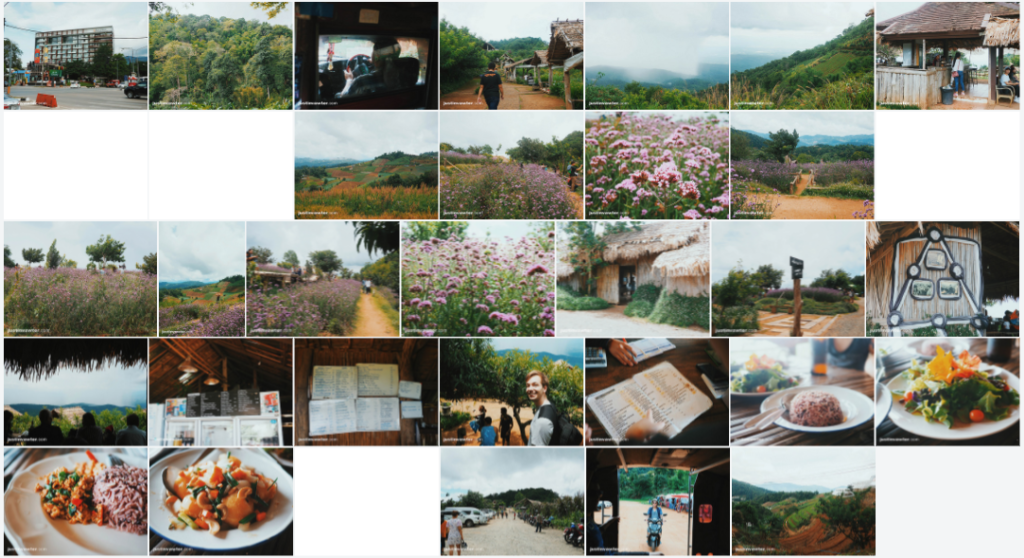 Where to go

Maya Mall
Doi Mon Cham
Expenses

Breakfast – 35 Baht
Song Thaew to Doi Mon Cham – 1200 Baht/4pax = 300 Baht each
Lunch – 120 Baht
Song Thaew from Maya Mall to Tha Pae Gate – 40 Baht
Shopping at the weekend market – 220 Baht
Dinner – 45 Baht
Note: Doi Mon Cham in Mae Rim was not part of my itinerary but after meeting other backpackers, they invited me to go here. It was a super nice place! If you have extra time, I highly suggest you visit this place although it can get pricey since you have the rent the entire Song Thaew.
DAY 6: CHIANG MAI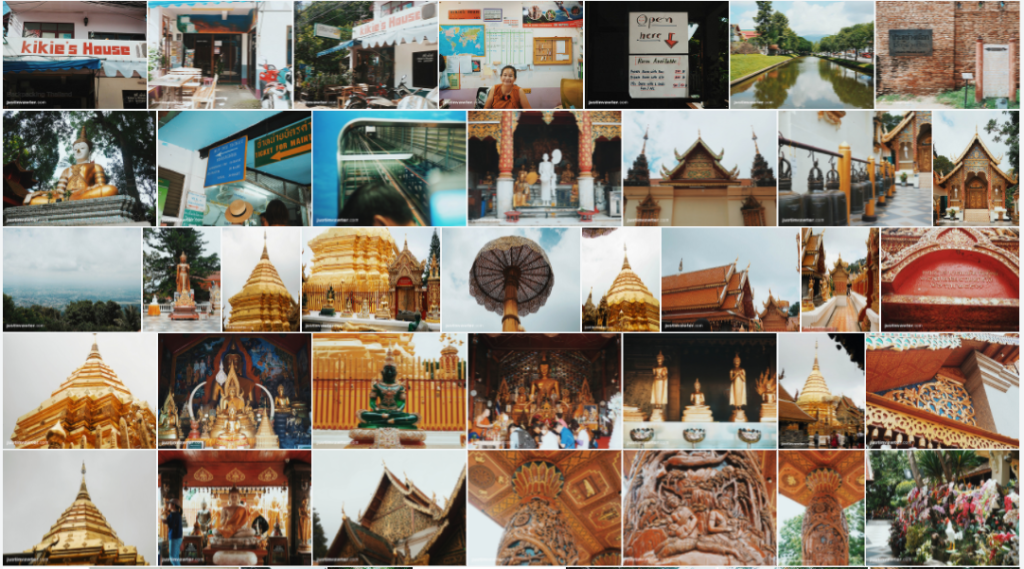 Where to go

Doi Suthep
Expenses

Breakfast – 55 Baht
Song Thaew to Doi Suthep – 120 Baht (roundtrip)
Entrance Fee – 50 Baht
Lunch – 50 Baht
Train to Bangkok – 771 Baht
Note: Doi Suthep is a must-visit if you're in Chiang Mai. It's a nice temple on top of the mountains. Entrance fee is just 30 Baht but you can pay an additional 20 Baht for the optional cable car ride. From the city square, a friend fetched me and dropped me at the train station. Since I went with the bus going to Chiang Rai, this time I want to try the train back to Bangkok. Travel time is around 13 hours, longer than the bus ride. Do note that train is from Bangkok to Chiang Mai only. If you wanna go to Chiang Rai, you have to ride another bus so I suggest you ride the bus from Bangkok straight to Chiang Rai instead. Supposedly, the ticket should just cost 500+ Baht but when I arrived, it was already sold out so I had no choice but to get the 771 Baht ticket. If you wanna go with the cheapest, I suggest you go to the train station at an earlier time or try to book online.
DAY 7: AYUTTHAYA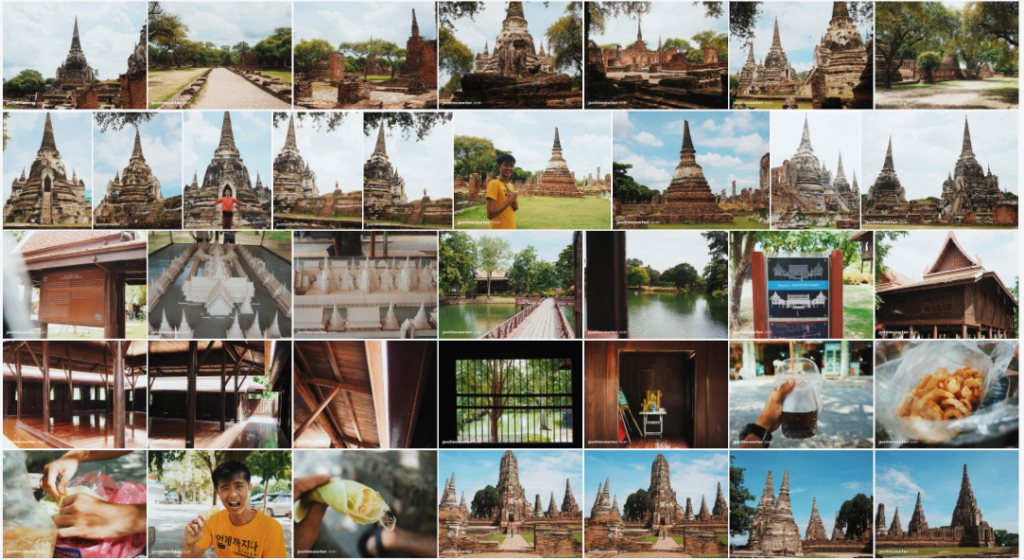 Where to go

Wat Phra Si Sanphet (Ayuttha Historical Park)
Wat Lokaya Sutha
Kum Khun Phaan
Phra Buddha Sai Yat (The Reclining Buddha)
Wat Putthaisawan
Wat Chaiwatthanaram
Expenses

Bangkok Train to Bangsue – 20 Baht
Sky Train to Bang Phlu (where P'Bomb will pick me up) – 42 Baht
Snack – 55 Baht
Ayutthaya Historical Park Entrance Fee – 50 Baht
Wat Chaiwatthanaram Entrance Fee – 50 Baht
Dinner – 45 Baht
Note: After arriving back in Bangkok, I met with P'Bomb again and we went to the historical city of Ayutthaya. This is definitely my favorite part of the entire trip. You can tour the city in a day and if you're a history and architecture geek, you'll definitely fall in love with this place. Wat Chaiwatthanaram is pure heaven!
DAY 7: AIRPORT
Expenses

Bangkok Train to Airport Link – 22 Baht
Airport Train – 45 Baht
Note: My flight is early morning and Bangkok traffic was sooooo heavy. If you've been following me, I immediately posted on Facebook Page my airport story where I cried. Haha!
TOTAL EXPENSES
 4, 866 Baht = ~Php 7,486
That's it for now! I'll be posting all the details for each trip so do watch out for that.
Cheers~!
– Justin –