Soul Food at 5 Loaves & 2 Fish, Quezon City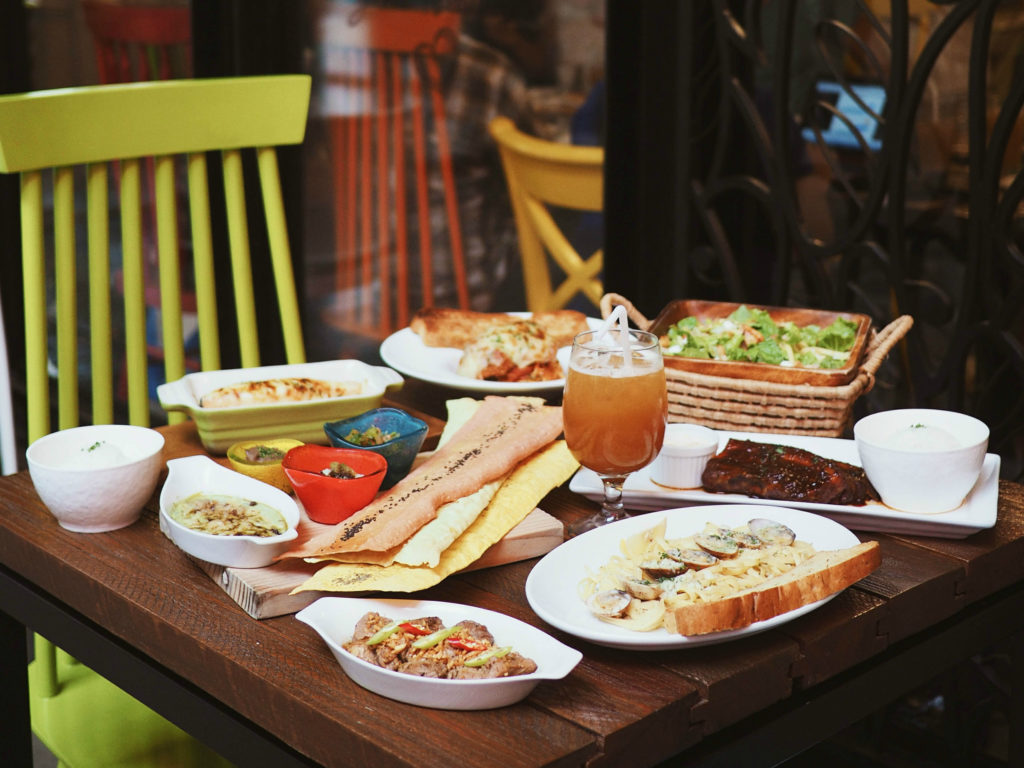 There are cafes that fill your tummy and there are those that fill your soul. On my hunt for great places in the metro, I stumbled upon 5 Loaves & 2 Fish in The Rock at Don Antonio Heights, Quezon City. Although I regularly visit cafes to study and work, it's been a while since I last checked out one for the sole of blogging it so visiting 5 Loaves & 2 Fish is something that really excites me.
A SECRET PLACE
Searching for 5 Loaves & 2 Fish is very easy to me since I've been to The Rock a couple of times already but for first timers, finding the place can be quite a struggle especially to those living outside Quezon City.
The cafe is located along Don Antonio Heights (near Ever Gotesco, the old mall that looks like Disneyland). If you're coming from the south, just ride a bus or fx with the SM Fairview sign and drop off at Ever Gotesco. Cross the footbridge and ride the red tricycle and tell the driver to drop you off at The Rock. 5 Loaves & 2 Fish is located on the ground floor in front of Starbucks.
AN UPLIFTING EXPERIENCE
The place is spacious with its industrial chic interior. Inside, you'll find words of wisdom that will definitely uplift your spirit. My favorite line I saw is this:
Love is like the five loaves and two fishes. It doesn't start to multiple until you give it away.
The menu is a variety of dishes ranging from Filipino to Western and Middle Eastern. For our appetizer, we had their Lavosh, an Armenian flat bread with Tomato Coriander Salsa and a choice of Chicken Liver Pate or Pesto Brulee. The taste was strange but in a good way. It's thin and crunchy. It's like you're eating some chips.
For the main course, their BBQ Spareribs is sooo good. I really recommend this dish. It's my favorite among the bunch. It's so flavorful and soft. I can definitely eat this all day.
Crispy Veggie Lavosh served with Tomato Coriander Salsa and a choice of Chicken Liver Pate or Pesto Brulee (Php 250)
Houseblend Iced Tea (Php 80),  7 Layer Salad (Solo- Php 275; Family- Php 632)
Tartuffo (Php 385)
Fisher's Pie (Php 225), Seafood Vongole (Php 299)
BBQ Spareribs (Php 295)
Pot Roast (Php 295)
Salpicao (Php 375)
But wait, there's more! One thing that I really love about this place is their cakes! I'm not a sugar person and I'm not a fan of chocolates but their cakes really got me. Faves include Dulce de Leche-Salted Caramel and Pink Guava Cheesecake which was a total surprise for me since I don't really like guavas. The combination of the sour guava paired with the sweet cheesecake base was perfect!
Price range per slice is around Php 100-150.
WORTH THE VISIT
Is it worth the visit? Definitely. Price range is around Php 150-400 per person though so you might shell out some cash but nevertheless, the food and place is worth it.
MENU
HOW TO GET HERE
Ride a bus or fx going to SM Fairview. Drop off at Ever Gotesco Mall.
Cross the overpass to the other side.
Ride the red tricycle and drop off at The Rock.
5 Loaves & 2 Fish is located at the Ground Floor, The Rock, Holy Spirit Dr, Quezon City, 1127.
Operating Hours
Monday – Thursday: 11am to 10pm Friday – Sunday: 11am to 11pm
For more info, check them out on Facebook and Instagram and visit their website.
Cheers~!
– Justin –