Reasons Why You Should Try Glamping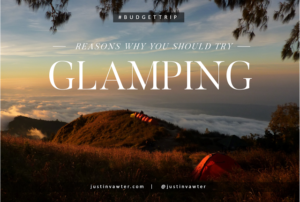 Sometimes it's all about the adventure. Sometimes it's all about the fun and comfort. But why not get the best of both worlds?
Imagine waking up to the sound of ocean waves or the golden sun rising behind mountain range or over a sea of clouds. They are definitely perfect views to start your day, right? You can experience these breath-taking panoramas by going camping. Camping is one of the outdoor activities people prefer to do when they want to take a break away from their busy lives in the metro. However, you don't have to sacrifice your comfort to be with nature. Have you ever heard of glamping? Glamping is the latest trend that pertains to luxury camping in the Philippines. 
Glamping or glamorous camping is a modernized version of a typical camping scene. When you're glamping you don't have to pitch a tent, no need to bring your bulky sleeping bags, pack your heavy backpacks, or build a roaring campfire. It is an upgraded version of an outdoor activity that doesn't compromise your relaxation. While it does take away some parts of the adventure that we are all seeking such as the thrill of going up with heavy backpacks, the sweat and I-don't-wanna-continue-anymore moments and of course the relief and sense of fulfillment upon reaching the top, glamping allows people to get a taste of what it feels like to be outdoors. Some may say that in glamping is boring, but let's face the reality: adventure is not for everyone. But that doesn't mean everyone doesn't deserve to get a feel of it.
So if you are curious on what this glamping is all about, here are some of the advantages that will surely persuade you to try luxury camping. 
COMFORT 
IN THE MIDST OF NATURE
One of the reasons why people travel is to find peace and comfort. Glamping certainly gives comfort to those people who want to experience it. In a typical camping scenario, you have to dig sand and make your own toilet. In a luxury camping, glamping spots or resorts provide a clean and private bathroom that you can use. Very convenient, isn't it? You can also have a comfortable bed with pillows and blankets. Some glamping sites have the classic banig while others have an airbed and foam. Most of their tents are well-ventilated, too. 
A LUXURIOUS STAY
When doing an ordinary camping, you have to cook your own food. In glamping resorts, they have a package that includes the complete set of meals. There are also butlers ready to serve you. Meanwhile, other glamping sites also offer facial or foot massages to complete the one-of-a-kind luxury experience. Moreover, many glamping spots have 24-hour maintenance and security services that guarantees your safety and the cleanliness of the camping site. It is like putting up a lavish hotel in the wilderness!    
NUMEROUS ACTIVITIES
Spending a quiet afternoon basking in nature's beauty is not everyone's definition of relaxing. For some people, it is easier to clear their heads and have a good time when they're on the go. Good thing there are glamping resorts that offer various activities such as paddle boarding and kayak rentals. This way, people can explore their beautiful surroundings while relaxing. If you want a more engaging activity, go to resorts that offer activities such as jet skiing, wakeboarding, and wall climbing. Definitely, glamping resorts offer activities that will help you relieve stress and enjoy the moment.
Every travel should be a unique experience. Going glamping can be both refreshing and rewarding to anyone. Each glamping sites or spots ensure that they provide a stylish, fancy, and different experience to their potential customers. So if you are looking for a new adventure with a twist, consider luxury camping.
IT OPENS YOU TO A WHOLE NEW WORLD
For those who are not into backpacking or typical mountaineering, glamping is a great first step to experience the outdoors. Some people just wanna try it but they have no idea where to start so through glamping, they can have a glimpse of what the outdoor life has to offer. It gives you a whole new perspective. After all, everyone starts from somewhere.
REWARD YOURSELF
While camping is fun, there are moments where you want to have a laid back experience but still be at one with nature. Reward yourself from time to time. You deserve some luxury in life. Work hard, live well.
Now that you are ready to explore nature, you should be careful in choosing the right glamping site. Apart from the refreshing ambiance that they can give, select resorts that provide safety for consumers like you. Also, pick a destination that is accessible to your place to lessen the time travel. Whatever glamping resort you choose, you will surely have a fun and relaxing experience!
Raf Marquezis a 22 year old guy who loves adventure in any form. The adrenaline rush is something that he can't live without, he eats it for breakfast. He loves to discover the unknown. He is a tech junkie, he wants to be updated on the latest trends. Raf always finds himself trying different things and going to different places. Despite his roller coaster life he always finds time to do one thing he is passionate about which is writing.