The Re-route: How Traveling Changed My Life
When I was 12, I thought I had life figured out. By the time I turn 21, I'll be an architect. A masters degree in heritage conservation by 24 and an architectural firm of my own by 30. I'll settle down by 35 and live in a fancy glass mansion by 40. When I retire at 65, I'll have an empire… multiple companies under my name. I'll leave a legacy. That's what I want. But then, life took a re-route and brought me to somewhere I have never imagined. You see, I never saw myself climbing, hopping from one island to another, fighting for a spot on seat sales and doing some backpacking stints. It was not me. Or so I thought.
I grew up in a family where traveling is seen as a luxury. We're the typical family trying to make ends meet. We rarely go to the beach or some fancy resorts. If we do, there must be some great celebration like a graduation or birthday party. For us, there are a lot of things we must prioritize and put our budget into. Traveling was never part of it.

I can't remember how many times I've told people how I ended up being a mountaineer but I guess there are tales you'll never get tired of telling. It was org week in school and we were just checking out the booths. One that caught our attention was the mountaineering club because of their fancy photos. There was a joiner's fee of 90 pesos and since I had no money with me and it's not really my thing, I just passed by it. But my friend persuaded me to join her. She told me that she'll pay for my fee and well, how could someone say no to free? We gave it a try and yeah, the rest was history.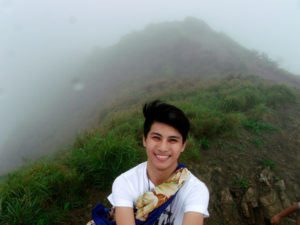 Fast forward, here I am: writing travel guides which I never planned to do. I was a blogger way before I started travel guides. Events, fashion, food, name it. I've been here in the industry for years and to be honest, I was a nobody. No one recognizes me except friends. I went into that phase where I just grew tired of everything. I got burned out. I realized that I was no longer happy. I was writing not because I wanted to share a part of me but only because I have to make it up to the people who invite me on their events and brands who give me products to review. I was forced to do it. It was no longer authentic.
Then I traveled.

I never wanted to be a travel blogger nor did I ever dream of becoming one. Out of all the niches out there, it was the last on my list or even not included there at all. I remember the first travel guide I wrote. It was super long and detailed but somehow, I felt relieved. It was like me telling my story to the entire universe that "hey, I climbed a mountain and got to travel at such a tight budget". It was a breath of fresh air. It brought me back my burning desire for writing. I got inspired. It was such a long time since I last felt that rush of excitement while typing down those words to describe my trip. Unexpectedly, the universe responded. We then started having a conversation. I kept telling her my stories and she kept on listening, getting excited for my next adventures. In a span of just two months, my page likes grew from a mere 4,000 to a whooping 20,000 and now to more than 60,000. It opened doors for me. Whatever I have now, I owe it to traveling. After all, without it I won't have any guides to write.
But more than the opportunities, the readers, social media and all, traveling has helped me cope up with myself. It gave me spiritual healing, a connection to my inner self and to the outside world. It showed me all the reasons why I am doing all of these. Through traveling I met my best friends. I conquered my fears. I healed a broken heart. I ticked off things from my bucket list. I became adventurous, hungry for those adrenaline rush moments. But most importantly, it showed me how I am just a tiny speck in this vast universe, that there is so much to explore. Yet, tiny as a spec may be, I am a ripple, strong enough to create a huge impact.
Looking back, the last three years of my life have been the best. There were a lot of downs but definitely more ups and traveling is one of it. It brought me to places I never thought I'll go to. It gave me that sense of fulfillment despite all of the failures I've had. It taught me that, cliche as it may sound, life is not just about breathing to exist. It's about living it. I still can't believe that my life will literally change the moment I signed up for that club. I'm still in awe every time I try to recall it. Who would have thought that one single trip can alter the course of your entire life?

When I was 12, I thought I had life figured out. Now that I'm 22, my timeline has been changed. I may still be in school and got another year left but all the plans are still there… they just got delayed. I still want to push my masters degree, my firm, family and empire, and definitely squeeze some trips every now and then. Besides, traveling has become both my career and life now. After more than 30 climbs, 22 provinces and hundreds of destinations, I can't be more than grateful with the kind of life I am living right now. And compared to who I was before, I am now ready for all the possibilities and re-routes life will take me. After all, that's one important lesson I've learned from traveling. Sometimes, the best trips are the unplanned ones.