My Dream Destination: If I could fly for free, where would it be?
As a traveler, I am often asked about my dream destination and honestly it's one of the hardest questions ever. Where do I start? We have more than 81 provinces and it's extremely hard to pick a dream destination. Earlier this month, I asked the question: If you could Fly for FREE, where will you go? 
All your answers were very inspiring and the majority of you guys answered Batanes and Siargao for the local destination and Iceland and Maldives for the international one.
So why did I ask the question? Well, it's because of my belief that everyone deserves to travel. It's my way of sharing to people that hey, it's really possible to Fly for FREE! I can't remember how many times I've been asked to share tips on how to travel on a tight budget and it'll definitely take me a long time to explain it so I might as well share them on a series of posts.
Recently, I published my article "Tips on How to Travel for FREE" where I shared personal tips on getting free flights, accommodations and food. It's a list of things I have done that helped me travel for free. The list includes tips on couchsurfing, blogging and my favorite: rewards program.
Most of us often ignore promos that can instantly help us travel for free. One good example are rewards program by travel companies. Did you know that you can earn free flights by just booking hotel rooms? Yes, it's possible! Booking site TravelBook together with Cebu Pacific Air GetGo recently launched their partnership wherein you can earn GetGo points for every hotel room you book. Conversion rate starts at 1 point for every Php 10 spent. and that can go higher depending on their promo. That means if I book a Php 1,564.03 room in Secret Garden, I automatically get 459 points and that point can already be redeemed for a one-way flight!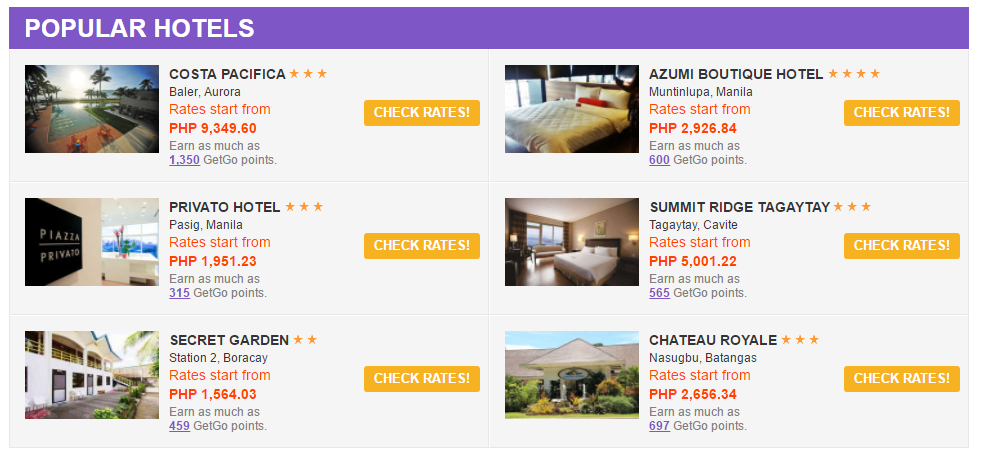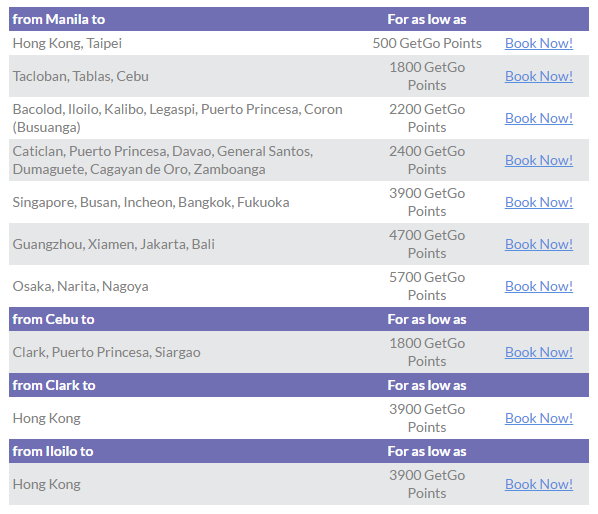 QUICK TIP
1. Earn 50 Bonus Points when you book at www.travelbook.ph/getgo from May 12 to June 12, 2017.
2. Offer is valid only on GetGo member's first booking with TravelBookPH using www.travelbook.ph/getgo. Only bookings made in GetGo and TravelBookPH's co-branded site are qualified for this promo.
3. Enter your GetGo membership number on the booking form in order to earn points.
4. GetGo points will be credited to your account within 2 to 3 weeks upon check-out.
But that's just not it. There are other ways of that can help you travel for free like joining contests and giveaways and even volutourism.
Now back to the question: If I could Fly for FREE, where would it be? Personally, there is one province that I've always wanted to visit ever since: Catanduanes.
Named as the Land of the Howling Winds, Catanduanes lies on the easternmost part of the Bicol Region in Luzon. There is something so magical about this island that attracts me. The moment I saw Binurong Point in a feature story years ago, I knew that I have to go here one day. It just looks so serene.
Binurong Point // Image from GoCatanduanes
My friend has been here and the way he tells me story of his backpacking journey to this island, I can't help but get envious. I want to go here too! In fact, it's part of my of Dream Bicol Escapade where I shall visit Albay, Naga, Catanduanes and Caramoan. I'm not sure if I can do it this year but hopefully I can visit it soon.
There are so many things you can do in Catanduanes. It's funny because I already have come up with an itinerary just in case there's a spontaneous trip here. Here, you have everything. From surfing to hiking to spelunking, this province is a one-stop destination.
One week is not enough to explore the whole province. With so many beaches and tourist destinations, you'll definitely have a lot of place to visit here. Just by looking at the photos already excite me, what more if you see it in person?
Binurong Point // Image from GoCatanduanes
Surfing Spots // Image from GoCatanduanes
Traveling to Catanduanes can take up a lot of your time. If you're not in a rush, you can take a bus from Cubao, Quezon City going to Tabaco City Port (10-12 hrs) then ride a ferry going to Virac (4-5 hrs) or San Andres (3-4 hrs). Another option is to ride a plane directly to Virac Airport (1 hr).
This is one of the reasons why I'm having a hard time visiting the province. It will definitely eat up your time since you have to allot at least one entire day for the travel time alone. However, if given the chance, this is definitely a place worth visiting.
To
Catanduanes
, wait for me. I'll see you pretty soon.
How about you? What's your dream destination?
Cheers~!
– Justin –