Review: Supremo 4k Wi-Fi Action Camera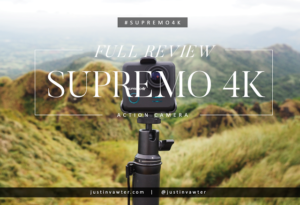 Earlier this year, I posted my full review to the Supremo 1: Budget Action Camera for Budget Travelers (read here for the full review) and just before the year ends, Supremo releases its second budget action camera: the Supremo 4k. Boasting 4k shooting capabilites and a new 20 megapixel Sony sensor, is the Supremo 4k really worth the upgrade?
GOODBYE SUPREMO 1, HELLO SUPREMO 4K
Check out my full review of Supremo 1 here for a comparison.
To be honest, I wasn't expecting a lot of feedback for my Supremo 1 review but hey, it's definitely a good deal if you want an action cam without breaking the bank. Compared to its competitors especially SJCAM (which releases new versions every now and then), Supremo took a while to release an upgraded version of their action camera. Although Yi Cam was able to release its much awaited 4k version earlier, no one actually expected Supremo to release the Supremo 4k but it's already here and I've got a complete hands on experience on it! So excited to share the review to you.
SUPREMO 4K OVERVIEW
Like what I always mention, I'm not keen on technical specifications since I'm not a hard core tech guy. I use my gadgets as it is. But for those who are wondering, here are some basic info about the new Supremo 4k:
WHAT'S INSIDE THE BOX
New accessories included in the box.
The new Supremo 4k is more generous by giving out a lot of new accessories. Notable ones include the replacement door, safety tether, straps, handle bar and clip mounts and an all new looking frame which looks so cool. However, I was very disappointed with the 360 degrees rotating swivel arm because I was expecting it to be… well rotating. I was thinking it was like a gimbal which would be very nice but it was actually just a regular lock bolt.
IMPROVED AESTHETICS
The Supremo 4k has the same function buttons as that of the Supremo 1 but it sports a new look. The new Supremo 4k has a cleaner matte housing compared to the leather texture matte of the old version. It also has a better grip thanks to its patterned sides.
The waterproof casing also got a design overhaul although honestly I prefer the first version because it looks unique. The new waterproof case looks exactly like the case of the SJCAM which I find very boring.
An improved case mount
WRIST REMOTE: A HUGE DOWNGRADE
The new wrist remote looks totally cool! I would enjoy wearing it every now and then. It looks very fancy and modern. But it was a huge disappointed. It was a total downgrade. The previous version can be charged using a usb cable which is very convenient however the new one ditches that technology and instead went to the classic battery-operated watch. Mine didn't last for 2 hours (it was probably an old stock). I don't even change the batteries of my watch so I don't think I'll change this one as well. So for now, despite its cool looks, the wrist remotes is useless for me. I wish they have used the same usb-power technology.
SAMPLE PHOTOS & VIDEOS
Here comes the most crucial part: did the Supremo 4k lived to its promise of bringing better photos and videos? The answer: yes and no. Compared to the Supremo 1, it was waaaay better. The new SONY IMX Sensor was a huge upgrade. There were less noise and the quality improved a lot. But it fell short to its competitors. I saw some shots of the Yi Cam 4k and I would pick it anytime over the Supremo 4k. But again, considering the budget (Yi Cam 4k costs twice as much as Supremo 4k), getting the Supremo 4k is a major upgrade already.
Maximum zoom
As for the 4k video, I didn't feel like I was shooting at 4k. But the quality was again better than the previous version. It's already high quality for me although there are some unexplainable white spots all over the videos. I used it during our trek to Mt. Batulao in Nasugbu, Batangas and I was able to test it over a low-light environment. It struggled but the quality was enough to satisfy me.
The new Supremo 4k has added some cool features as well which I wished they had on my first review. It now has that fish-eye crop, you can now choose your preferred ISO level as well and edit the White Balance. It has a time-lapse and slow-motion shooting feature too.
What's really noticeable about the quality is that it tends to be very bluish. Check out the shots using the Supremo 4k and my Olympus OMD E-M10 MK I. Both photos were on auto mode and they are unedited. Of course it's like comparing oranges to apples but take note of the color difference.
Supremo 4k vs Olympus OMD E-M10 MK I
WHAT I LOVE ABOUT THE SUPREMO 4K
To give you a rundown, here's a quick guide on what I love and hate about the new Supremo 4k:
1. Better Aesthetics – the design was a huge improvement.
2. Better Quality – I love the photos and videos although it needs some post processing to get accurate colors but it's better than the previous version.
3. More Accessories – this is where Supremo wins over its competitors. You get everything for the price of one. I love how they keep on adding more valuable accessories.
4. Wider Angle – on my first review, I added this as part of what I hate about Supremo since it only has 150 degree angle compared to GoPro and SJCAM which both has 170 degrees. Looks like Supremo listened to us and now they're sporting a 170 degree wide angle lens.
5. Price – it's still the same as the previous version! YESS!!
WHAT I DON'T LOVE ABOUT THE SUPREMO 4K
1. Wrist Remote – this was so unexpected. I wish they used the same technology and just upgraded the look. It brought the entire package down to be honest.
2. Still No External Charger – just like the previous version, you have to charge the entire camera to charge the battery which is a complete hassle especially if you want to charge 2 batteries.
3. No Dedicated App – it still uses a third-party application for its wrist remote.
EDIT: There is now a Supremo World dedicated app. I initially thought it was still using the old third-party app. The new app has better user interface and even includes editing options.
4. Poor Color Quality – as mentioned, the photos and videos turned out very bluish considering that the white balance is already set to auto.
FINAL VERDICT
So is it worth the upgrade? Definitely! While you're not getting the 4k quality you might be expecting, the quality is still good considering the price. Ditch the wrist remote though, mine's already useless.
Supremo 4k is currently priced at Php 3,880 at Kimstore.
*All photos are unedited except for the ones with the watermark*
Disclaimer: I received a Supremo4k from Supremo Philippines for this review. However, all opinions are mine.
Cheers~!
– Justin –