Rogue One: A Star Wars Story X Art Mural Launch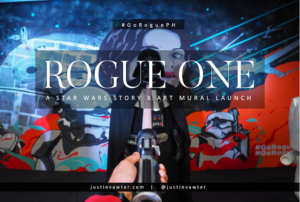 There are things in life where we become part of something bigger than ourselves just like how small stars add up together to create the constellations. We do something extraordinary out of being ordinary. This allows us to conquer things in life and be beyond what we thought we could be. That is exactly what the latest and first Star Wars stand-alone film "Rogue One" all about: when ordinary people chooses to do extraordinary things, and in doing so, become part of something greater than themselves.
MURAL EXHIBITION BY THE SKYDOME
Last Saturday, I got the chance to personally witness the unveiling of the art mural for the #GoRoguePH launch at the SM North Edsa Skydome. The mural depicts the main character for the upcoming film Jyn Erso played by Felicity Jones. It also features The Death Star and storm troopers who plays a vital role in the film.
The launch was joined by cosplayers who dressed up as storm troopers and of course Darth Vader who is already an icon of the movie franchise. It was really exciting to see the artwork being finished live. We even got the chance to be part of the "mannequin challenge" during the grand reveal!
A SNEAK PEEK TO THE MISSION
From Lucasfilm comes the first of the Star Wars standalone films, "Rogue One: A Star Wars Story," an all-new epic adventure. In a time of conflict, a group of unlikely heroes band together on a mission to steal the plans to the Death Star, the Empire's ultimate weapon of destruction. 
"Rogue One: A Star Wars Story" is directed by Gareth Edwards and stars Felicity Jones, Diego Luna, Ben Mendelsohn, Donnie Yen, Mads Mikkelsen, Alan Tudyk, Riz Ahmed, with Jiang Wen and Forest Whitaker. Kathleen Kennedy, Allison Shearmur and Simon Emanuel are producing, with John Knoll and Jason McGatlin serving as executive producers. The story is by John Knoll and Gary Whitta, and the screenplay is by Chris Weitz and Tony Gilroy.
"Rogue One: A Star Wars Story" opens in theaters on December 16, 2016.                    
– Justin –