Baler, Aurora Budget Travel Guide: Where To Go, Eat and Stay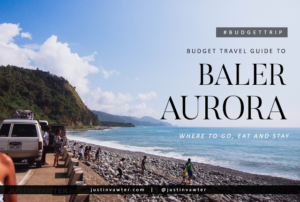 Baler in Aurora province is known as a surfing spot in the north. But aside from its powerful waves that's perfect for a ride, there are a lot of things you can do and places that you can visit within the province. This is #BudgetTrip featuring a full budget travel guide to #BTBaler and #BTAurora.
Note: My SD card got corrupted upon arriving back in Manila and I did my best to recover all the files. Unfortunately, most of them are forever gone and while I was able to recover some, they are of low quality. 🙁

HEADING UP NORTH
As part of our holy week excursion, my family and I went to Baler, Aurora. But since I have to go there all alone, I went on a side trip first to Gapan and Cabanatuan first in Nueva Ecija. I would really suggest doing this trip if you have free time to maximize your journey. (Read my 1-Day Travel Guide to Gapan and Cabanatuan here).
If you want to head straight to Baler, you can ride a Genesis Bus (Php 450) or Joybus Deluxe (Php 700) in Cubao.
Tip: Book ahead of time especially during peak season. Also take note that buses are not available 24 hours.
WHERE TO GO IN BALER
For our trip we didn't have to worry where to stay and about getting around the town since my mom's officemates live in the area. We stayed at their place and we also have a car so for this specific guide, I'll just do a quick rundown of places we visited but will share some budget trips to give you an idea of how much you'll be spending upon visiting this quaint town.
STOPOVER AT AMPERE BEACH

On your way to the town proper. you'll pass by the Ampere Beach in Dipaculao. Famous for its magnificent rock formations and pebbles, the beach by the coastal highway is perfect for photography.
A STAY BY THE FARM
When you say Baler, Aurora, most people think it's all about beaches and surfing. I admit that I also have this kind of thinking but it changed when we went to the place where we'll be staying for our trip. We stayed at Barangay IV (Poblacion) in Maria Aurora and surprisingly, it's surrounded by farmlands.
LUKSO LUKSO ISLETS, DIGUISIT BEACH
From the Baler town proper, you can rent a tricycle for a tour. Just look for one that is accredited by the local tourism government. Rate is around Php 700 per trike for a day tour.
For our first stop, we went to the Lukso Lukso Islets and beach in Diguisit. The place is filled with rocks and seaweeds but it's still beautiful especially the rock formations. There are a lot of tourists though so taking a good photo without photobombers can be a struggle.
That moment when your sister and mom has a cool photo and you don't have coz you're the photographer. 🙁
DITUMABO MOTHER FALLS
One highlight of our Baler trip is our visit to the famous Ditumabo Mother Falls. There is a parking fee of Php 35 and an entrance fee of Php 35. If you're planning to visit here especially during peak season, go early since it can be very crowded.
Sadly, the falls was not at its best condition when we paid a visit. It was damaged heavily by the recent typhoon so the water flow was affected. Nevertheless, it was still an awesome sight though taking a photo can a real challenge especially that the current is strong. I went to the safe side though and kept my camera instead of risking it getting wet and moist.
Sea of crowds!!!
There are a lot of food stalls in the area near the registration in case you get hungry. Bringing food to the falls is not allowed so make sure you leave everything on your car.
SABANG BEACH
Of course a visit to Baler will not be complete without checking out Sabang Beach. However due to the extremely bad weather and lack of time, I skipped surfing and decided to just roam around.
THE LARGEST BALETE TREE IN ASIA
We decided to check out the famous Balete tree but upon arriving, it was also crowded and there's another parking fee of Php 30 so we decided to skip it. Honestly, I didn't find it amazing. It was.. well, a tree.
BALER MUSEUM, BALER CATHOLIC CHURCH & AURORA QUEZON'S ANCESTRAL HOUSE
I have such a fascination for museums that I did not miss the opportunity to check out the Baler Museum at the town proper. There's an entrance fee of Php 30 which is already good for the Baler Museum and the Aurora Quezon's Ancestral House. It's located along the plaza.
 From the Baler Museum you have to get to the other side to check out the ancestral house. You'll pass by the Baler Catholic Church which I really find lovely.

Across the street, you'll find the Doña Aurora Quezon's Ancestral house. It's a replica of the old mansion. Here you'll find all sorts of memorabilia from the Quezon family.

WHERE TO EAT
There are a lot of restaurants within the town proper especially near Sabang Beach. Seafood is popular in the area though they're not that cheap. Since we have a house to stay, most of our meals are home-cooked but we did try Yolly's because of its popularity. Food was great but service was too slow.

WHERE TO STAY
 You can get a decent hotel for Php 2,000+ per night. Popular hotels in the area includes Costa Pacifica (check here for the rates) and The Circle Hostel(check here for the rates).
 If you're on a tight budget, there are a lot of lodging houses and inns which you can get for as low as Php 300 per night.
 Check here for the complete list and rate of hotels and inns (Agoda)
Check here for the complete list and rate of hotels and inns (TravelBook).
NOTES & TIPS
Food is relatively cheap in Baler. However you may want to bring some cash since ATM's are hard to find in the area. Also, driving at night can be tough because of the terrain.
Signal can also be tough especially when it's raining.
ITINERARY
BUDGET BREAKDOWN
Estimated budget for 4 pax 3D/2N including food, budget hostel and surfing – Php 2,000-2,500 each