2017 Subic Ecotourism Festival

The United Nations World Tourism Organization has declared 2017 the International Year of Sustainable Tourism for Development to highlight ecotourism, a vital concept in the booming industry in biodiversity-rich countries.
In line with this global observance, the International School of Sustainable Tourism (ISST) together with the Dept. of Tourism, Tourism Promotions Board, DENR, DILG, Subic Bay Metropolitan Authority (SBMA), and Philippine Airlines, are spearheading the Subic Ecotourism Festival which will be the biggest of its kind in the country.
SUBIC ECOTOURISM FESTIVAL
Set on May 29 to June 1 at the Subic Bay Exhibition and Convention Center, the core of the event is a forum that brings together the leaders of the Global Ecotourism Network (GEN), and its regional subsidiary, the Asian Ecotourism Network (AEN).
The Subic Ecotourism Festival is a rare opportunity to learn from and network with the best practitioners in the industry. Leading the powerhouse cast of speakers are Glenn Jampol and Tony Charters, GEN chair and vice-chair respectively, and general board members Robert Holmes of Australia, Hitesh Mehta of Kenya, Masaru Takayama of Japan, Nabil Tarazi of Jordan, and Albert Teo of Malaysia.
Other international keynote speakers are Conservation Ecology Center – Australia CEO Lizzie Corke, ASSOB International Australia CEO Paul Niederer, Sapa O'Chau (Vietnam) founder and director Tan Thi Su, Travel Impact Newswire Executive Editor Imtiaz Muqbil, Mahidol University International College assistant dean Kaetwa Muangasame, Bond Asian Ventures Limited Chairman Greg Duffel, Indecon Indonesia Director Ary Suhandi, CEO, and Global Sustainable Tourism Council Randy Durband.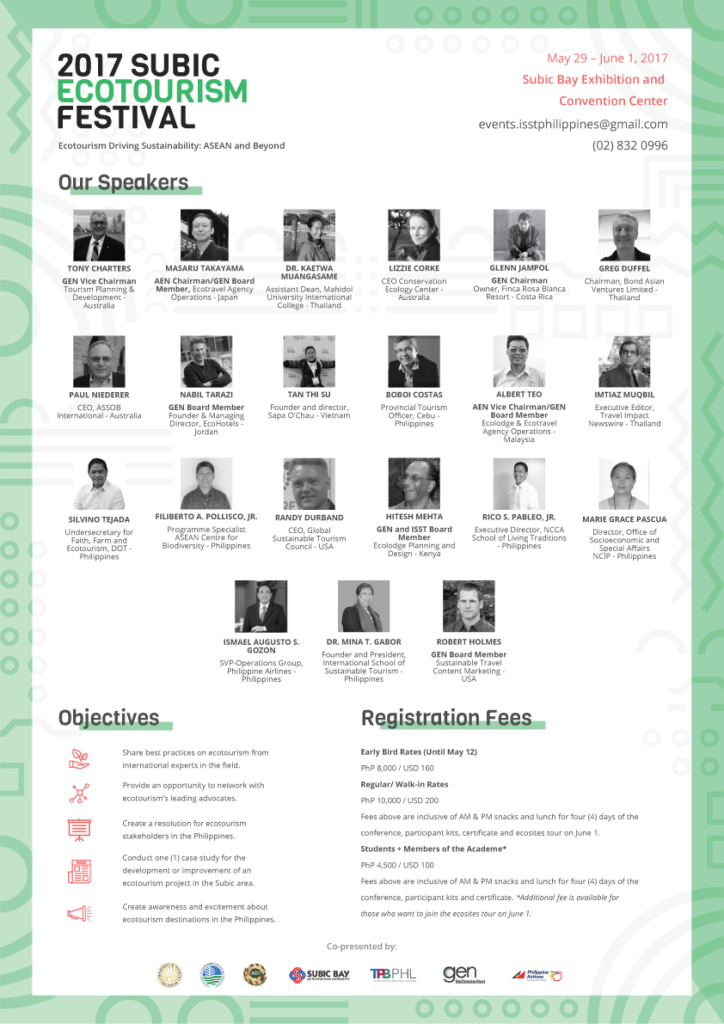 Complementing the forum are government sector local speakers DENR Biodiversity Management Bureau Director Teresa Mundita Lim, Tourism Undersecretary Silvino Tejada, National Commission on Culture and the Arts-School of Living Traditions Executive Director Rico Pableo Jr., National Commission on Indigenous Peoples (NCIP) Socioeconomic and Special Affairs Director Marie Grace Pascua, ASEAN Centre for Biodiversity Executive Director Roberto Oliva, Cebu and Provincial Tourism Officer Boboi Costas.
Moreover, El Nido Resorts Head of Sustainability Mariglo Laririt and Philippine Airlines SVP for Operations Ismael Augusto Gozon will share best practices from the private sector.
TOPICS & KEYNOTE SPEAKERS
Session topics include the following:
Ecotourism Driving Sustainable Development
Ecotourism and Conservation
Innovative Investment Attraction
Business of Best Practices
Community-based Ecotourism
Ecotourism – A Natural for ASEAN
Policy and Standards
Indigenous Communities and,
Marketing Ecotourism for Yield.
THE PROGRAM
2017 Subic Ecotourism Festival
WHEN: May 29 – June 1
WHERE: Subic Bay Freeport Zone
The event is designed for government policy-makers, infrastructure development executives, tourism, travel and hospitality professionals, and faculty and students.
Participants will be conducting a case study for the development or improvement of an ecotourism project in the Subic Freeport area.
The Festival is co-presented by the Department of Tourism, the Department of Environment and Natural Resources, Tourism Promotions Board, Subic Bay Metropolitan Authority and official carrier Philippine Airlines.
For inquiries, call ISST at (02) 832-0996 / (02) 834 2996 or email [email protected] You can also check them out on Facebook for more info.
---
Justin Vawter is proud to be an official media partner of the 2017 Subic Ecotourism Festival.