1 Day Travel Guide to Gapan and Cabanatuan, Nueva Ecija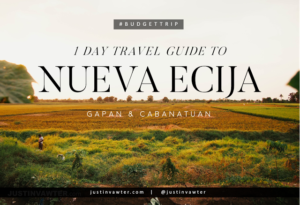 It was summer this year when my family decided to spend the holy week in Baler, Aurora. Surfing it is! But there's one catch: I have to go to Baler on my own. They traveled via private transpo which unfortunately can accommodate only 4 people (my younger sister, mom and her 2 office mates) which means I have to go there via commute. Not a big deal for me since I'm used to commuting but being the adventurer that I am, I told myself: I cannot go to Baler directly. There must be a side trip along the way. And so I did a research and voila, I saw myself traveling to the cities of Gapan and Cabanatuan in Nueva Ecija. This is #BudgetTrip featuring #BTNuevaEcija and here's a run down of my day trip to what is considered as the Rice Bowl of the Philippines.
Note: This is a quick travel guide. Will be posting full details for each destination so I hope you could check that out! 


GAPAN, GAPAN!
Honestly, there's not much to see in the entire Nueva Ecija province. You can go to Minalungao National Park but that would be very time consuming. Also, the falls and river are too far from the city proper so that's already a no for me. Since I've got a day only, I just visited the churches which I have to say is really beautiful and then some other historical sites like a memorial park and ancestral houses.
For my first stop, I visited Gapan. From the main terminal, you can ride a tricycle for Php 10 or just walk to reach the La Virgen Divina Pastora or Three Kings Parish Church.
I actually took a lot of photos but unfortunately, my memory card got corrupted after going back to Manila. I was able to retrieve some files but sadly, most of them were forever gone. 🙁
Just across the church lies a street filled with ancestral houses. Sadly, it was a heartbreaking sight. Ancestral houses that are abandoned, rotting, dying. Right before writing this travel guide, I was already writing my piece on the death of these ancestral houses which I can't wait to share to you on my upcoming posts. I have such a warm heart for anything vintage. I guess that's why I plan on taking up heritage conservation after graduating college.
To see the dying ancestral houses broke my heart. They bear intricate details and yet they are fading. It's just the sad reality and I hope this won't be the last time I'll get to see them.
From the ancestral houses, you can walk your way and visit the old site of the city hall. There's a small stage and park within the area. Sadly, I wasn't able to recover the photos of the place.
If you plan on visiting Cabanatuan, bear in mind that it's a really hot place. However, it's not humid compared to Manila which I find very nice. Also, you'll be surprised because there's almost no skyscraper in the city. It's very quiet and simple.
CABANATUAN CATHEDRAL
ITINERARY
I had no fixed itinerary since there's not much information about Nueva Ecija so what I did was list down places I'll go to and asked the locals which one should I visit first. The experience was tough but so fun.
BUDGET BREAKDOWN
Cheers~!