Coron, Palawan Budget Travel Guide: Where To Go, Eat and Stay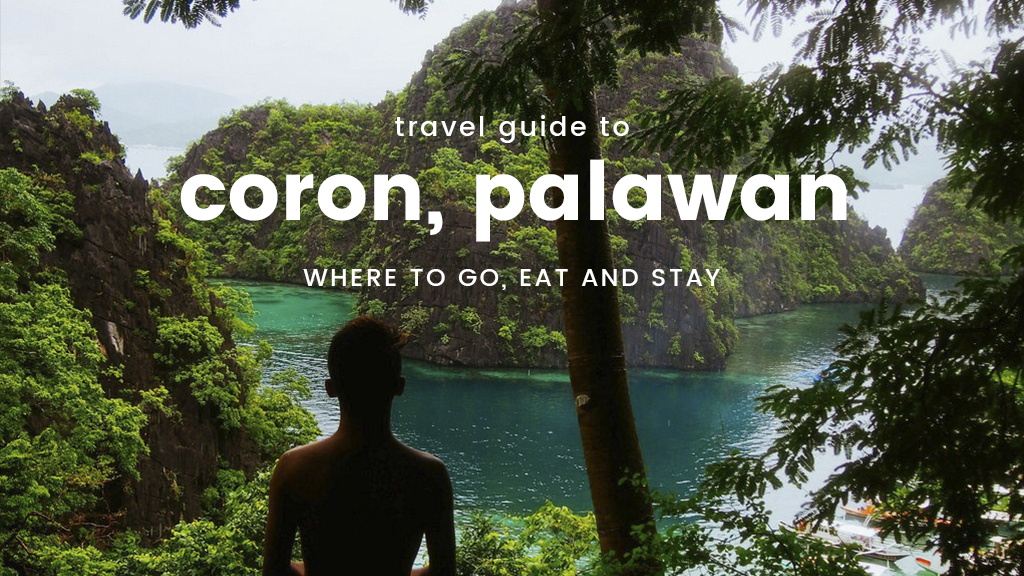 Hailed as "The World's Most Beautiful Island", Coron, Palawan is undeniably awesome. I think beautiful is an understatement to describe it. This August, I crossed this place off of my list as I conquer Coron on a 5-day journey. What was supposed to be a 4-day trip ended with a flight cancellation, a day extension and an experience of a lifetime. Heavy rainfall, zero visibility, cold weather, it was all unexpected. Still, I'm glad that I got to see Coron from two different perspectives. This is #BudgetTrip featuring #BTCoron: A Budget Travel Guide and a look at Coron's best and worst moments.
HOW TO GET HERE
There are multiple options to go to Coron but the most popular is via a plane ride (Skyjet, Cebu Pacific, PAL) or via a ferry (2GO). For my trip, I went with Skyjet and it just took me 35 minutes.
Most hotels offer transfers from the airport but if you're going for a DIY style, there are vans available from Busuanga Airport to the town of Coron, Fare is around Php 150. There's also a terminal fee of Php 100.
WHERE TO GO
Before heading to Coron you must realize that this is a first-class municipality. Although the town is filled with many hotels and resorts, it's still underdeveloped and it relies heavily on tourism. The town itself is small and you can tour it in a day. Some of the roads remain unpaved and tricycle is the main mode of transportation. There are no fast food restaurants in the area (as it would kill the local businesses) and signal is tough especially when raining. Also, be prepared for brown-outs and interruptions as it's pretty common here.
CORON TOWN
Being a small town, it's easy to tour Coron. You can even walk from one place to another. If you're going to ride a tricycle, fare is Php 10. Point of interest includes the following:
ISLAND HOPPING
WHERE TO STAY
Finding a place to stay in Coron is very easy. For my trip, I stayed at The Funny Lion for 2 nights and Coron Soleil Garden Resort for another 2 nights (will be doing a separate review so hope you could check them out as well).
The Funny Lion
This is our first hotel. They have an infinity pool with a massage pool, a jacuzzi, a roof deck bar with 2 more jacuzzis for that extravagant feel and a very nice restaurant. What I love about this place is they're very personal. You'll find yourself enjoying personalized bag tags and the overlooking view of Coron is just nice.
Read my full review here
.
Coron Soleil Garden Resort
Nothing beats a luxurious experience. What's more if you have the whole resort to yourself? And did I mention that I'm their first guest here? I was really happy to stay here. Although the rain somehow made me want to just curl up in the bed the entire day,
Coron Soleil
treated me like a king. They'll be opening this September and I'm so excited for it. If you're worried about budget, they do have the
Coron Soleil Express
 which is a cheaper alternative without having to sacrifice quality service.
Read my full review here
.
Backpacker Inns
If you're not picky and really want to save money, you can check out backpacker inns around the town. Popular inns include Busuanga Seadive Resort, RB Transient House and Lagrosa Backpackers. Rates usually go from Php 300-500. You may check out the full rates here.
WHERE TO EAT
There are a lot of restaurants and cafes in Coron. Since food was provided by our hotels, we only got the chance to eat while touring the city. We first ate at Busuanga Seadive Resort and best part of going here is that they serve unlimited coffee! Perfect for the cold and rainy weather.
Busuanga Seadive Resort
Mixed Fruit Shake (Php 75)
Fika Indulgence
We passed by Fika Indulgence and we're so intrigued so we decided to check it out. It's located on the second floor and can be easily spotted from the main highway. The place was good and the servings is huge that it's good for 2-3 people already. As for the taste, not a fan. It was good but not that great. Still, it's a cozy place if you just want to chill.
Mint Java Chips (Php 140)
Tuna Cashew Peso (Php 295)
F3 (Fika Filthy Fries / Php 170)
BBQ!
On the corner street going to Busuanga Seadive Resort, you'll find this small barbecue stand. Trust me, you should give it a try. It's just Php 10 per stick and for some reason, it tastes so goooood!
TIPS & NOTES
If you're planning to go to Coron soon, do check the weather from time to time. Although we were unlucky to catch a monsoon during our visit, at least we were prepared. Like I mentioned, electricity and signal is unpredictable so it's best to carry a powerbank all the time. Make sure to put all your important stuff in a dry bag as well especially when doing island hopping. And lastly, just have fun! The people here are nice and they're more than willing to help you.
ITINERARY
This is just a rough itinerary of the places we visited. It's best to visit Coron for around a week to explore the island. Coron is a small town so you can do all the town tour and climb Mt. Tapyas in one day. An island hopping tour is good for one day already though it's best to go on a 2-3 day tour to visit all. If you want to visit Calauit, Safari Park, allot one more day and another day or two if you plan on visiting Culion island.
BUDGET BREAKDOWN
Since everything was planned for us, here's just a rough guide on how much you'll spend on the island (excluding air fare).
Enjoy the most beautiful island in the world!
Cheers~!