Travel Guide to Mt. Balingkilat and Nagsasa Cove Traverse, Zambales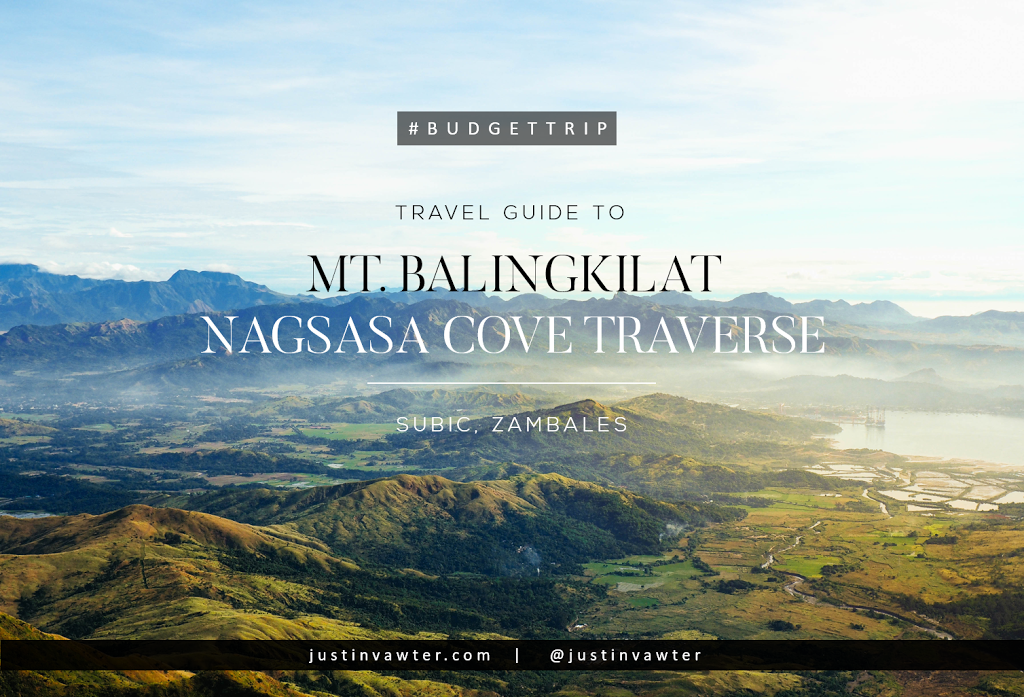 The year was about to end. It's time to cap off my year with a dream climb: a journey to my most challenging hike to date.
Under the scorching sun, we braved the rocky path of Mt. Balingkilat in Subic, Zambales. The 14-hour hike felt like forever. We wanted to give up. While the view at the summit was breathtaking, climbing it was harder than expected. We were tired, thirsty and covered in sweat and tears. You can see the view of Nagsasa Cove but after spending hours of hiking, it felt like as if we're not moving. The view was static. How long are we still going to climb? How far is it? Emotions poured out but despite the pain and struggle, climbing the so-called Mountain of Thunder was a momentous event for me. It's not just an ordinary climb. It's a test of patience, determination and discipline. It's conquering that one great dream.
To start with my journey, here's a short background of Mt. Balingkilat: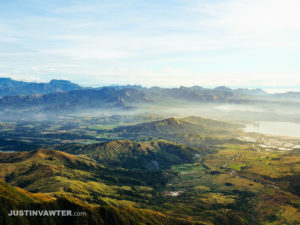 Location: Subic, Zambales
Entry point: Sitio Cawag Settlement, Subic
Exit point: Nagsasa Cove (Brgy. Pundaquit, San Antonio)
LLA: 14.89 N, 120.11 E (est.), 1100 MASL
Days required / Hours to summit: 2 days / 5 hours
Specs: Major climb, Difficulty 6/9, Trail class 1-3
Mt. Balingkilat, literally the "Mountain of Thunder" in the native Aeta language, is at 1100 MASL one of the highest peaks in the Zambales Coastal Mountains and Coves area, an emerging hiking hotspot within San Antonio and Subic towns that has scenic views and nice trails that interconnect high peaks and beautiful coves.
It was once known as 'Pointed Peak', a name that was used by US Navy servicemen who used to be stationed in nearby Subic Naval Base, but this title's descriptive accuracy is valid only on certain vantage point. Moreover, out of respect for and appreciation of the indigenous people's heritage, we are preferring the native name Balingkilat, and has re-emerged as the common name given to this mountain.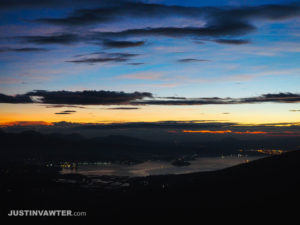 We arrived in Zambales by midnight, our bags, heart and body ready for a 2-day trip to the province's popular mountain. We started with a prayer followed by a slow and steady hike. It was dark and cold. We found ourselves braving through tall grasses and sharp stones under the starry skies. It was a funny thing actually. A part of me just wants to keep going so we could arrive to the summit before sunrise while another part of me wants to stay, lay down and just enjoy gazing at the stars.
Halfway through, we were greeted by the sunrise. It was a spectacular view. The rolling hills paired with the beam of light was magical. It was not an easy hike though. We had a handful of stopovers because it was really a tiring hike. It was assault all through out but the view drove all the pain away. It was such a nice reward.
A PANORAMIC VIEW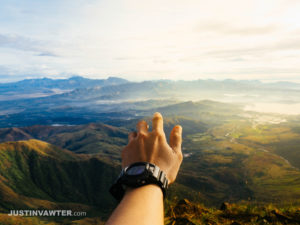 It was around 8am when we arrived at the summit. Despite the sun above us, it was cold. Morning dew formed like webs covered the grass and the wind blew very hard. We were all hungry but for a moment, we forgot what hunger felt like because of the view.
From the summit, you'll have a 360-degree view of Zambales. It was a panorama of all things great. I never thought that such mountain could have various levels of beauty all stitched into one. Compared to some of my previous hikes where the view is almost the same (of course it's not just about the view, more often than not it's the entire experience that makes a climb worthy but I'll be a real hypocrite to say that a view is not important especially in our current world ran by visual aesthetics), Mt. Balingkilat offers different views that if you take a look at all the photos, you'll immediately think that they're all taken from different mountains.
On one side you'll find the Sierra Madre mountain range. On the other, you'll see the Nagsasa Cove that stretches all the way to the West Philippine Sea. You are literally on top of the world. We took several photos on the summit and then prepared to descend. Time is of the essence here. We have to rush down since the heat is starting to grow strong. Because Mt. Balingkilat has almost no trees at all, heat would be our greatest enemy.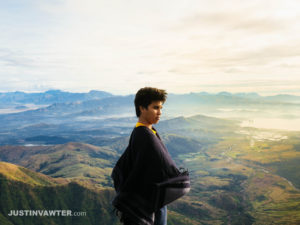 THE INFERNO TRAIL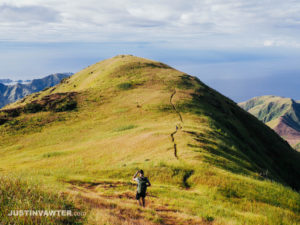 It was already 1pm and we were still hiking. It was like a living hell… literally! The heat was burning our skin and our supply of water was running out. Almost 4 liters consumed in what seemed to be a trail of inferno. The wind was dry and it was scorching hot. I am used to heat since that's a given when climbing but the heat at Mt. Balingkilat was on another level. It was the hottest climb I've ever been. Even the stones were so hot that you'll feel you're being roasted alive. We stopped for a couple more times, our hopes dropping down with every stopover. We just want to take a rest. We were in fact ready to set camp and call it a day but no, we must continue. We were almost there.
The trail going down was tough. It was a continuous rocky slope. Good thing there were some trees along the way that offered shade and became an instant place for resting. Also, thanks to our helpful guide, he showed us an off-the-trail path that leads to the river where we can refill our water supply.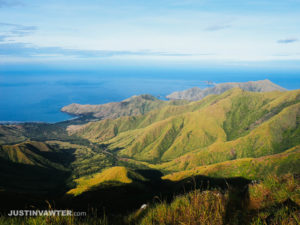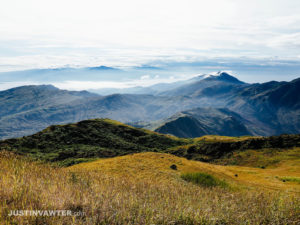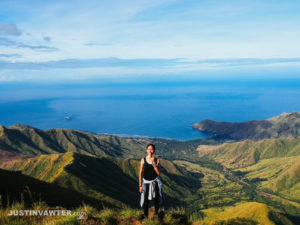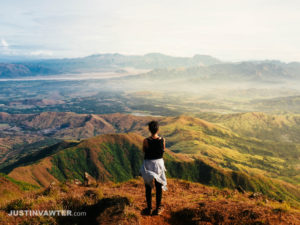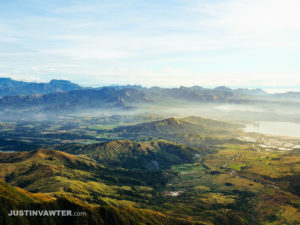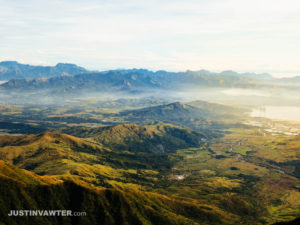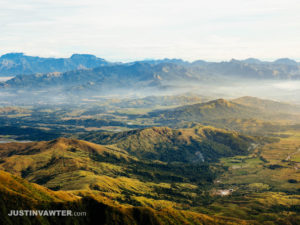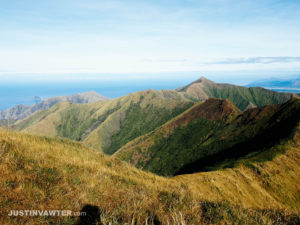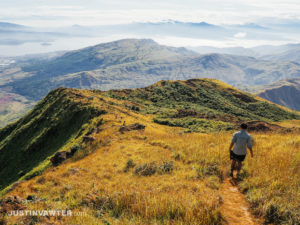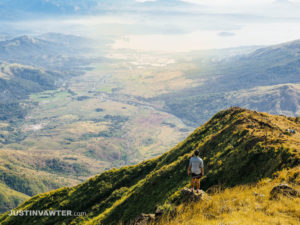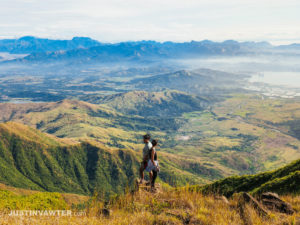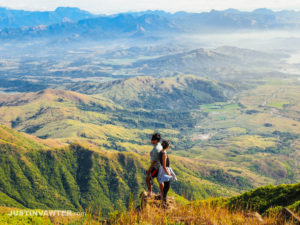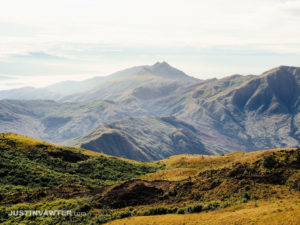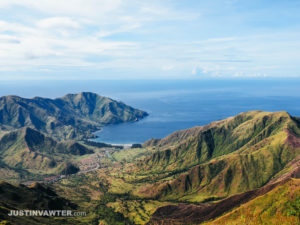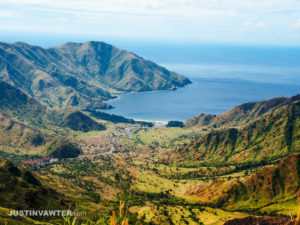 Nagsasa Cove from the summit of Mt. Balingkilat
A BREAK AWAY FROM HOME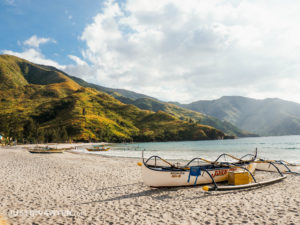 And then we finally made it. I can remember how I felt when I finally saw the sea. I rushed and let the sands of Nagsasa Cove touch my feet. The pain, the suffering, it was all gone. I felt a gush of relief on my body which was already getting numb because of the heat. It was teary moment to be honest. I fixed my things and started to prepare our late lunch. Hunger decided to kick in and remind us that hey, we haven't eaten anything aside from that roll of Gardenia bread.
At around 4pm, we decided to take a dip. It was warm but still relaxing. The sand was fine but it was the sunset that really marked the moment. By around 6pm, we were the last ones swimming. For some reason, we felt like the sea was pulling us away from the shore. There was some kind of unexplained gravitation pull or whatever scientific name you'll call that. It was scary that we decided to get back to our camp.
After taking our dinner, we had a couple of Emperador shots while getting to know the rest of the team. Well, not really a couple since I got extremely drunk (which is very rare) but it was socials so yeah. I also attempted to do some galaxy shots which obviously failed (why is it so hard!). It was frustrating so I ended up getting more shots instead. LOL!
The next morning, we went back to swimming and right after we decided to play some card games. It was the first time I tried playing UNO and it was super fun. We also played other card games like pusoy dos and poker. There is no signal in Nagsasa Cove and I think that's what makes a trip like this special. You're far away from social media. It was a break from all the toxicity of the city life. We had the place to ourselves and we just let every second of our stay be memorable.
By 12 noon, our boat arrived and we headed back to Pundaquit. We passed by Anawangin and Camara Cove and Capones Island. It was a 30 to 45-minute boat ride. Jokes were passed around and I admit, I'm the noisiest in the group. But isn't that the best part of the trip? Getting to know the people around you, earning new friends and all.
FAREWELL, THUNDER
We arrived back in Manila by 10pm. My legs were numb, body tired but it was a worthy climb. I conquered a dream mountain. I had fun despite the struggle and it was just a break from all the stress in life. After all, that's one reason I climb: to run away from all of it. Climbing is an escape plan for me. And by the time I go back, I'll now have the strength and courage to face everything. So to the Mountain of Thunder, Mt. Balingkilat, it won't be the last time I'll see you. But for now, it's farewell my good friend.
BUDGET BREAKDOWN
For the first time, I joined an organized climb for Php 1,500. It's cheaper than to do a DIY climb especially that I only have 2 other friends with me. But if you're planning to do a DIY climb, prepare at least Php 1,000-2,000 for a group of 8-12 pax. Also, it's important to have a contact already for your boat ride. There's no signal in the area so it's best to have everything planned out.
You can do paluto in Nagsasa since they are selling fresh seafood. Drinks are also available but they can be expensive since it's a secluded island.
ITINERARY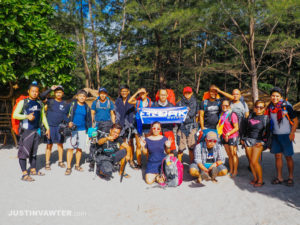 Shoutout to the people behind this climb.
Cheers~!
– Justin –